Posted on
SVG inch up the ladder in OECS swimming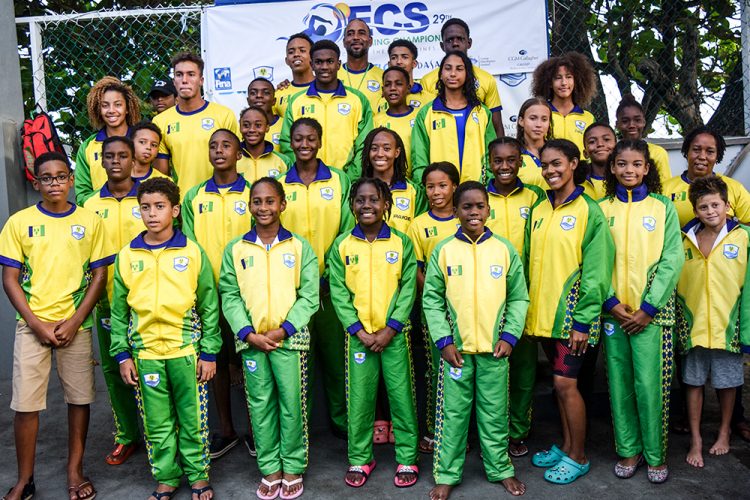 An improved showing by St Vincent and the Grenadines' swimmers at the 29th hosting of the OECS championships, held last Friday to Sunday at the Shrewsbury Aquatic Centre, placed the Vincentians behind perennial winners Grenada and St Lucia, St Vincent and the Grenadines tabulated 1,116 points, nipped by St Lucia, which compiled 1,121.5 points.
In the female category, the hosts were joint top place with Grenada, as both ended on 589 points.
Among the males, SVG got 527 points, behind Grenada's 660 and St Lucia's 641.
It was not only an improvement on last year's fourth place, when the championships touched down in Antigua and Barbuda, but a spike in the points, as St Vincent and the Grenadines, then put together 901.5 points.
Docking fourth were Antigua and Barbuda on 974 points, with St Kitts and Nevis scoring 57.5 points.
Grenada, which ended on 1,249 points to claim their fifth straight lien on the championships, scalped five individual awards; St Lucia had four and St Vincent and the Grenadins pouched three.
Among Grenada's individual titles were the males 8 and Under, with Jaaziel Francis trumping.
Other titles going Grenada's way, were claimed by Sara Dowden, in the females 11 to 12; Nathan Fletcher, the males 11-12 , Kimberley Ince, the females 13 to 14 and Zakary Gresham, the males 13 to 14.
Meanwhile, St Lucia's accolades went to Antoine Destang-, the males 9 to 10; Mikaili Charlemagne, the females 15 to 17, Jayham Smith-Oldlum, the male 15 to 17 and Jean Luc Zephir, the male 18 and over title.
And, for St Vincent and the Grenadines, Eltonique Leonard took the females 8 and Under; Zariel Nelson, the females 9 to 10 and Olivia Jack, the females 18 and over.
The championships see St Lucia still leading with 15 titles, while Grenada are on 14.