Posted on
National football club championships season kicks off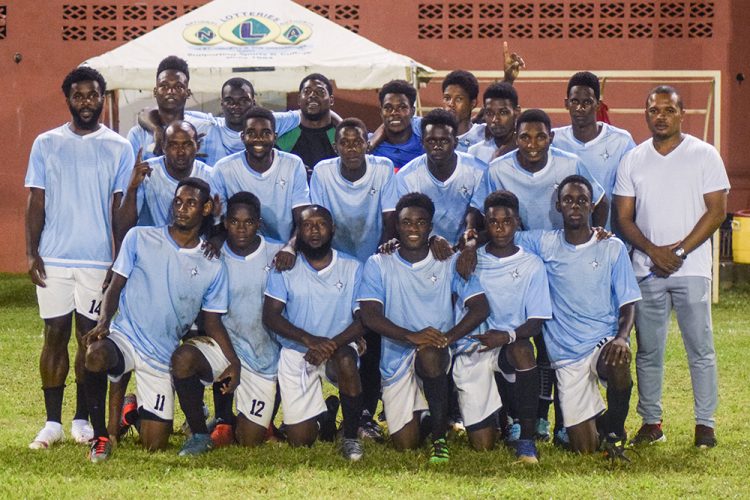 The 2019/2020 St Vincent and the Grenadines Football Federation's National Club Championships, kicked off last Sunday at the Victoria Park.
The new edition began with the Community Shield, featuring North Leeward Predators, the 2018/2019 knock-out champions and the 2018/2019 league champions BESCO-Pastures.
But it was North Leeward Predators that left the venue as victors, winning 7-6 on penalties. This after the match ended two goals apiece.
Chavel Cunninghan and Andre Robinson had netted for BESCO-Pastures, while Addeen Charles and Cleon Westfield scored for North Leeward Predators.
The night also featured this country's senior national men's team Vincy Heat and a President XI. Vincy Heat trumped 5-2.
The national club championships is composed of the premier division, the first division, the second division, the reserves division, the women's division, as well as the Under-11, Under-13 and Under-16.
Set for action for the remainder of this year will be premier, first and second divisions.
Twelve clubs are competing in the premier division. They are BESCO-Pastures, North Leeward Predators, Sion Hill, Hope International, Je Belle, Greiggs, SV United, Awesome, Avenues United, Bequia United, Camdonia-Chelsea and System 3. This division will be contested on a home and away basis.
Lodged in the first division are Toni Stores, Hill View, Layou, Sparta , Volcanoes, RSVG Police, K &R Strikers, Largo Height, Pride and Joy, Owia United and Glenside Ball Blazers.
And, the second division has Roseans, Parkside Rollers, Green Hill, Strike Force, Sharpes, Sharpes 09, United Strikers, 1998 Hill Side Rollers, Roxdale, Richmond Hill, DESCO and Brownstown competing for honours.