Posted on
Four better times in 2019 Round D Town road relay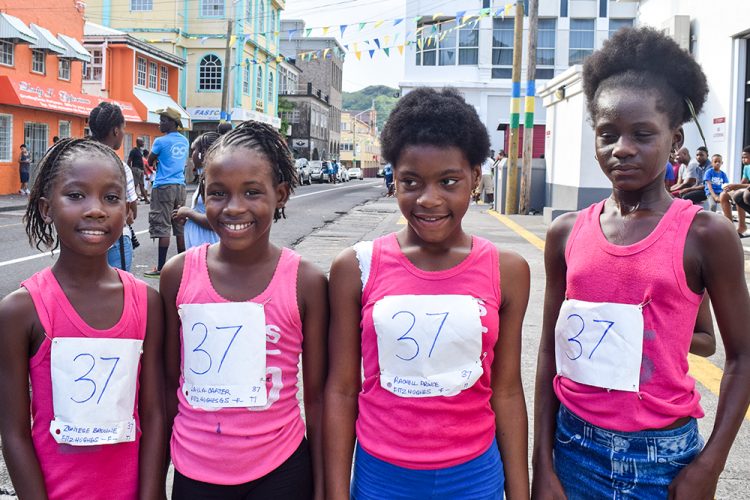 Four teams bettered the winning times over last year's clocking, when the 2019 Team Athletics SVG's Round D Town road relay was held last Sunday, in capital, Kingstown.
In retaining both the male and female categories of the primary schools' division, the Fitz Hughes Government's teams were faster on last year's times.
Fitz Hughes male team one, en route to retaining the title, clocked 29 minutes 23.16 seconds, as against their 36 minutes 14.43 seconds done in 2018.
Too, the Fitz Hughes females did 35 minutes 0.14 seconds as opposed to their 43 minutes 47.48 seconds, recorded in the previous event.
The tale was the same in the male category of the secondary division, as Petit Bordel timed 29 minutes 23.16 seconds, over last year's 30 minutes 32.22 seconds, recorded by the St Vincent Grammar School.
Also in the open female category, High Performance's winning time was 32 minutes 02.50 seconds, over last year's 36 minutes 50.18 seconds, recorded by IT-DAT Academy.
But two of the categories recorded slower times than in 2018.
The winning time of 41 minutes 05.94 seconds was marginally away from the 40 minutes 20.30 seconds run last year's.
And, Chatoyer's first place time of 27 minutes 55.82 seconds in the open male, could not better that of 27 minutes 51.89 seconds, timed for the winner last year.
Thirty nine of the 40 teams which faced the starter's orders, completed last Sunday's event.
The Round D Town road relay, which was originally set for September 22, had to be postponed because of threatening weather conditions on that date.
The four-leg race, saw each leg beginning and ending directly in front of First Caribbean International Bank on Halifax Street.
From the start point, athletes headed up to Sharpe Street, then onto Bay Street, with the primary school participants turning on to Higginson Street and the others to Linley Street, on to Back Street, then back to the start point.