Posted on
Vincentian cycling administrator receives UCI acknowledgement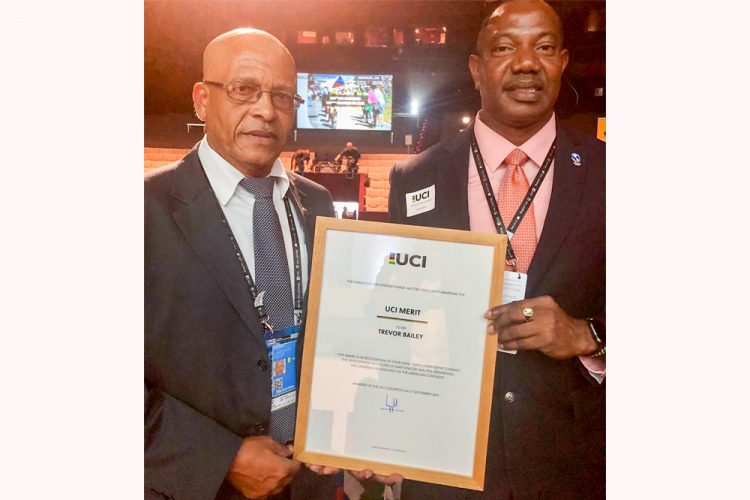 Trevor "Sailor" Bailey was recognised by the Union Cycliste Internationale (UCI), last Friday, with the Merit of Distinction, for his exceptional work and commitment to cycling here in St Vincent and the Grenadines, as well as the Caribbean and the Americas.
The "surprise" honouring of Bailey, took place in Harrogate, Yorkshire, England, during the UCI's 188th Congress.
Bailey, who has been involved in cycling for close to five decades, is also the president of the Caribbean Cycling Federation.
Relating his feeling on the UCI's recognition, Bailey told SEARCHLIGHT last Monday, that it all came as a surprise to him, but one he accepts.
Taking pleasure in contributing to humanity, Bailey related: "Working with the youths is a blessing and I am happy that to see that many of the people whom I worked with have turned out to be good men and women".
"For me, involvement in cycling is a ministry… I will continue to build the sport and work with everyone locally, regionally and into," Bailey added.
Reflecting on the ceremony last Friday, Bailey noted a touching moment.
"One of the things that touched me most was seeing pictures of me, going back to my first outings as a cyclist in Grenada, Barbados and Trinidad and Tobago, then, when I was about age 14 or so," Bailey commented.
Apart from Bailey, the UCI also awarded two former presidents in Brian Cookson and Pat Mc Quaid, along with John Zammit of the Malta Cycling Federation.