Posted on
LJNCA positioned for further expansion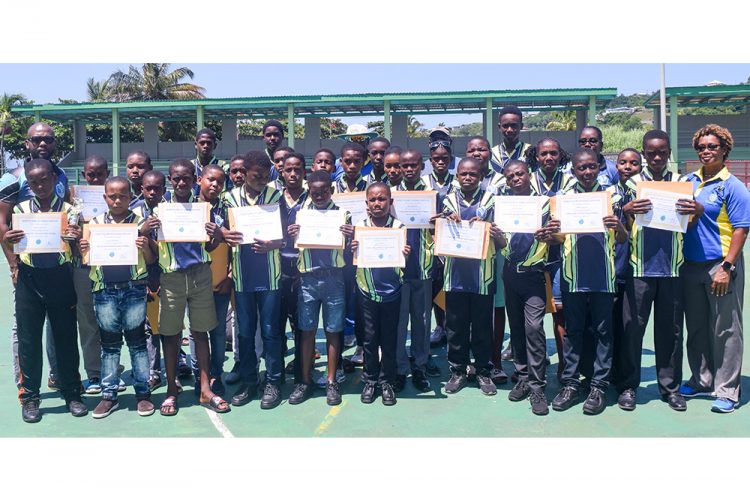 The three-year-old Lennox John National Cricket Academy (LJNCA), can see further expansion as early as the next intake in 2020.
This was indicated by president of the St Vincent and the Grenadines Cricket Association Inc. Dr Kishore Shallow.
Speaking at the closing ceremony for the 2019 edition on Saturday, September 14, at the President's Suite at the Arnos Vale Playing Field, Shallow noted, "We have moved from 15 to 45 and next year it will be ideal if we can move to 60 and keep improving as we go on."
Seen as the bedrock of youth development as undertaken by the Shallow-led executive, the LJNCA began in 2017 with 15 players and continued in 2018 with the same number.
Shallow in restating the status of the LJNCA thus reaffirmed, "Rest assured that this programme will continue."
Agreeing that the academy is serving its purpose, Shallow mentioned that since its establishment, St Vincent and the Grenadines has shown improvements in the Windwards Under-15 cricket tournament, progressively moving from fourth, to third and to second, in consecutive outings.
Reiterating the purpose of the LJNCA, Shallow stated, "The reason for that is to provide our Under-15 players with a very early opportunity to develop, so part of the programme is to identify talent and develop talent; produce players who can win and dominate Windward Islands cricket and of course, move on to greater things… We thought it is a great investment to invest in our Under-15 programme."
"We believe that cricket, with our raw talent, if we give our players in St Vincent and the Grenadines an opportunity to develop from a proper coaching structure, they would have equally the same opportunity to like the other players across the Caribbean," said Shallow, who is also the president of the Windward Islands Cricket Board of Control and vice -president of Cricket West Indies.
Shallow revealed that the establishment of the LJNCA forms part of the bigger intents of the SVGCA Inc.
"This is only the start of a lot of different plans we have to unfold … We have some in the making in terms of developing our infrastructure which will all complement what we are doing here," Shallow confirmed.
The 2019 LJNCA intake saw three clusters in operation at the Arnos Vale Playing Field (Arnos Vale), the Cumberland Playing Field (Leeward) and the Park Hill Playing Field (Windward).
Two coaches each were attached to the three clusters. Assigned to the Arnos Vale cluster were Samantha Lynch and Cleton Burnett, with Bertram Stapleton and Colin Shoy, the coaches at the the Leeward cluster, while Olanzo Jackson and Alston Bobb were the coaches at the Windward cluster.
The academy was named in honour of Lennox John, an outstanding cricket administrator, who served in many capacities here in St Vincent and the Grenadines, the Windwards and at the West Indies level.