Posted on
Computec All Stars back to the top of Diamonds football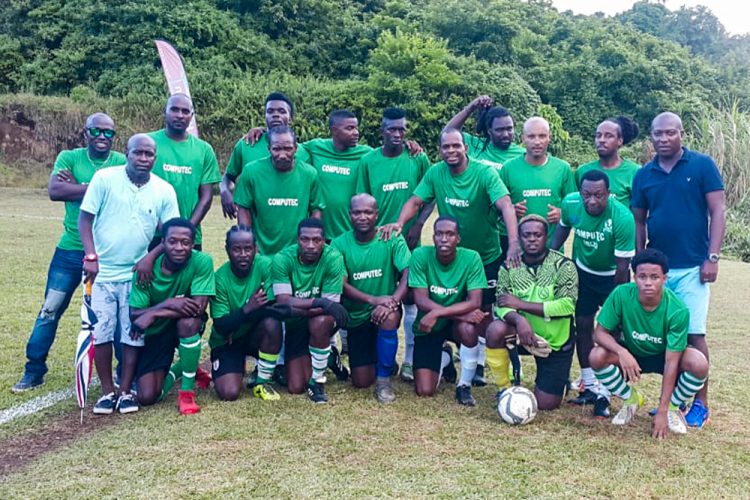 Computec All Stars have returned to the top of the Diamonds football, which this year, had Acres Agri Caesar's Real Estate as the title sponsors.
A 4-2 win last Sunday over regular finalist SV United, handed Computec All Stars, the title, the champions trophy and $2,500.
A goal each from Shandell Samuel, Deomaji Samuel, Ryan Bute and Benford Joseph, accounted for Computec All Stars' tally.
SV United's goals came from the boots of Dwayne Cupid and Kemron Osment, as they had to settle for second and the $1,500 cash award.
Then, as Computec Vincy Masters, the unit champed back to back titles in 2015 and 2016.
Just prior to Sunday's final, Chapmans All Stars got the $500 third place, as they beat Kebez Oride and Joy, 4-0 in the consolation play-off.
Computec All Stars collected three individual awards at last Sunday's closing ceremony.
Najima Burgin was voted best defender, Odale Cupid – best midfielder and Deomaji Samuel – most goals for his 18 strikes.
The lone award to elude Computec All Stars was the best goalkeeper, which was pouched by Kebez Pride and Joy's Anthony Hazell.
The other awards presented were most disciplined team – Combined Stars, with Theodore Gurley named the spectator of the tournament.
And, Tyrel Jacobs and Alkaleus Charles were rewarded for the services as ball boys.