Posted on
Kiddy Cricket camp concludes,… stand outs recognised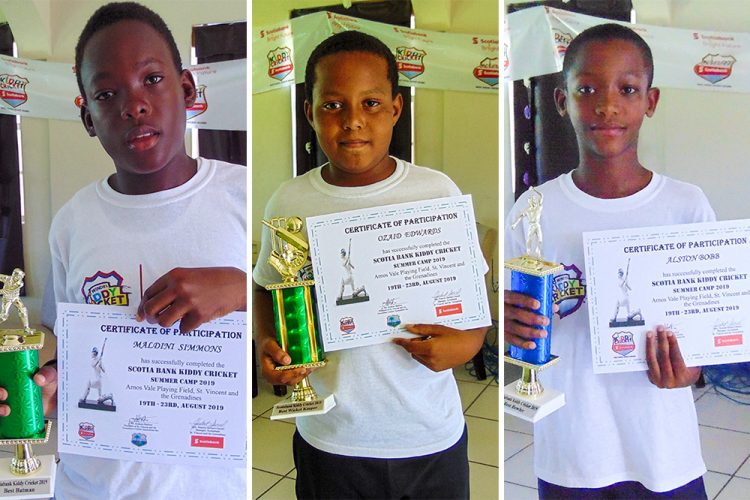 Six players were last Friday named as the outstanding participants of the 2019 Scotiabank Kiddy Cricket Camp which took place at the Arnos Vale Playing Field.
Zach Thomas of the Overland Primary was adjudged the Most Valuable Player, with Maldini Simmons of the Fitz Hughes Primary, listed as the Most Outstanding Batsman.
Sunaldro Woods of the Diamonds Primary was the Most Outstanding Fielder, Ozaid Edwards of the Chateaubelair Methodist – Most Outstanding Wicketkeeper and Alston Bobb Jr. of the Park Hill Primary, the Most Outstanding Bowler.
Zakayla Harry of the Belair Primary was named the Most Discipline Player.
The five-day camp engaged the participants in bowling, batting, fielding, catching, wicketkeeping, running between the wickets, as well as 15-over-per-side mini matches.
Additionally, they were given brief lectures on injury protection, personal hygiene, laws of cricket, child protection and nutrition.
Co- ordinated by Stanley Hinds, Uzzah Pope, Bill Edwards, Jeremy Layne and Cleton Burnett, served as coaches.