Posted on
SVGTA Tennis Fest winners emerge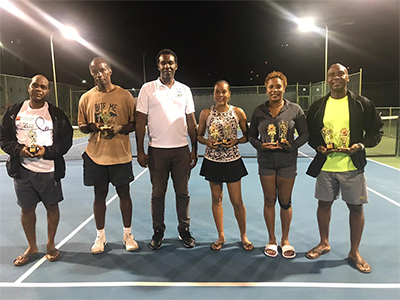 The junior and senior segments of the St Vincent and the Grenadines Tennis Association (SVGTA) Tennis Fest concluded on Thursday at the National Lotteries Authority National Tennis Centre at Villa.
Among the juniors, Matthew Clarke won the boys' Under-8, while Jerod Durham took the boys' Under-10.
Natalie Clarke took the Girls Under-10 and Yasmin Sandy, the girls' Under-12.
Angello Morgan copped the boys' Under-12.
And, in the senior category, Janelle Humphrey won the women's category, ahead of Niquette Williams, and James Bascombe beat his twin brother John, to win the men's segment.
Niquette Williams and James Bascombe took the mixed doubles title over Janelle Humphrey and Ronald Davy.