Posted on
Windwards second as Barbados wins U-19 regional cricket title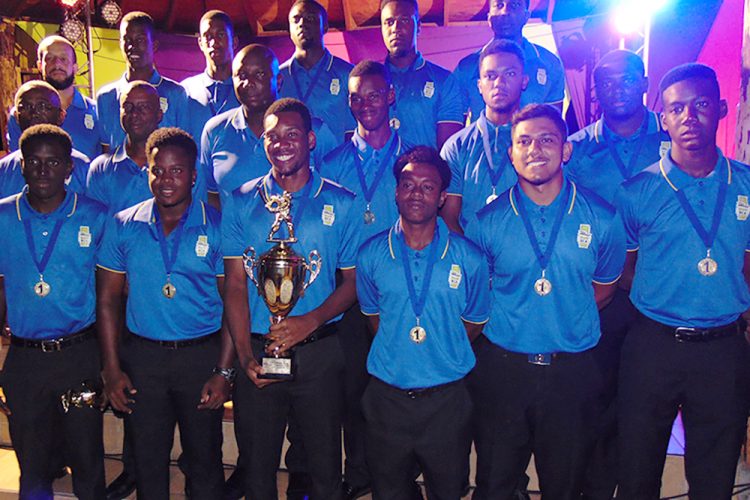 The Windwards had to settle for second, as Barbados was crowned the 2019 Cricket West Indies Under-19 champions, after completing a five-wicket win over the Leeward Islands on Tuesday at the Park Hill Playing Field.
Anderson Amurdan, who stroked 33 and Antoni Fernandes' 20, saw the Leewards to 106 all out from 48.4 overs.
Bowling for Barbados, Ramon Simmonds picked up 3 for 10 and Matthew Forde, 2 for 13.
In response, Barbados, after being 47 for 5, rallied to 109 for 5.
Matthew Forde scor for 14 and Antonio Fernandes had 2 for 24, to be the Leewards' most successful bowlers.
With no play possible at the Cumberland Playing Field between the Windward Islands and Jamaica, that worked in favour of Barbados.
It meant that the Windward Islands, who were trailing Barbados by one point, had no chance of overtaking them.
And, at Arnos Vale, Guyana beat Trinidad and Tobago by one run under the Duckworth Lewis Method.
Guyana, sent into bat by Trinidad and Tobago, reached 148 for 5 from their 48 overs, as the match was reduced because of rain.
Kelvon Anderson, who scored 42 and Junior Sinclair, who made 30, were Guyana's main scorers.
For Trinidad and Tobago, Avinash Mahabirsighn took 2 for 12.
Trinidad and Tobago, needed to make 150, but fell for 148 from 47.4 overs. Mbeki Joseph topscored with 41.
Kelvon Anderson took 2 for 25, Kelvin Umroa, 2 for 27 and Ashmead Nedd, 2 for 30, bowling for Guyana.
In the tournament, which was severely affected by rain, Barbados, who had two of their matches ending in no results, won three, hence finished on 21.5 points.
Second place Windwards, who had three matches rained out, got 16.8 points, having registered two wins, while Guyana on 14.6 points, had two of their five matches ending in no result.
Guyana had a solitary win, and two losses.
Trinidad and Tobago – 9 points; Jamaica – 6.6 points and the Leewards, 4.9 points, took the remaining places in that order. Trinidad and Tobago had one win to their credit, but both Jamaica and the Leewards failed to win a match in which play was possible.
Trinidad and Tobago and the Leewards had two of their matches rained out, while Jamaica, like the Windwards, had three.