Posted on
Weather may decide Regional CWI Under-19 cricket title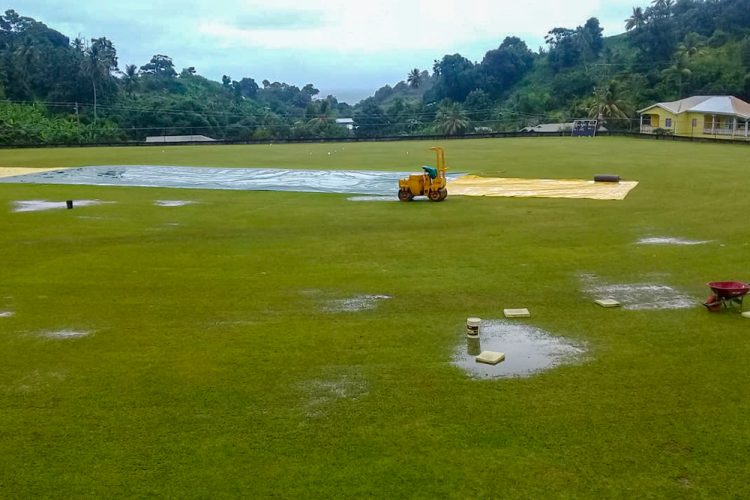 Following last Sunday's rained out fixtures in the Cricket West Indies Under-19 cricket tournament, Barbados and the Windwards remain the two front runners, going into today's last round of matches.
Barbados sit on 15.8 points, with the Windward Islands one point adrift on 14.8 points. Guyana are on 10.2; Trinidad and Tobago, 8.7, Jamaica, 4.6 and the Leeward Islands, 4.4.
In today's final round, Barbados face the Leewards at Park Hill, the Windwards clash with Jamaica at Cumberland, while Trinidad and Tobago will battle Guyana at Arnos Vale One.
All matches though are hinged on the weather.
When play was last possible on Thursday, there were wins for the Windwards, Barbados and Guyana.
The Windwards had a 69-run win over Trinidad and Tobago on Thursday in round three of the tournament.
Choosing to bat, the Windwards made 203 for 7 from their 50 overs at the Park Hill Playing Field.
 Kimani Melius struck 10 fours and 2 sixes in his 59, and Teddy Bishop's 53, saw him lashing 3 fours and 2 sixes.
Bowling for T & T, Avinesh Mahabirsingh took 2 for 12, Nicholas Ali, 2 for 26 and Jayden Seales, 2 for 48.
Trinidad and Tobago's response never got any stability, as the Windwards bowlers, led by Malakai Xavier's 5 for 26 and Tijourn Pope's 3 for 27, sent them packing for 134 all out from 40.4 overs.
Rivaldo Ramlogan and Ronaldo Forrester, both struck 22.
At Arnos Vale Playing Field, Barbados joined the Windwards as the unbeaten teams, by defeating Jamaica by five wickets.
Nyeem Young led with 42 not out, as Barbados got to 133 for 5 from 27.2 overs. Michael Thompson had 2 for 16 bowling for Jamaica.
Earlier, Jamaica had scored 132, recovering from 31 for 8. Michael Thompson and Matthew Comerie both hit 42.
Matthew Forde had 4 for 15 and Che Simmons, 2 for 31.
At Cumberland, 2018 champions Guyana earned their first win by defeating the Leewards by 119 runs.
Choosing to bat, Guyana, on the back of 51 from Sachin Singh and 42 from Kelvon Anderson, scored 176 all out.
Bowling for the Leewards, Uri Smith bagged 5 for 19 and Elroy Francis had 3 for 21.
The Leewards were dismissed for 57.
Qumar Torrington and Kelvon Anderson, both took 3 for 18 and Ashmead Nedd had 2 for 6.
Round three which was set for Sunday, should have featured Windwards and Barbados against at Park Hill; the Leewards and Trinidad and Tobago were to meet at Arnos Vale and at the Cumberland Playing Field, Guyana were to take on Jamaica.
All six teams were awarded two points each, as was the case in round one, when all three fixtures ended in a no-decision.
Following the final round of matches, 24 players will be selected to play a series of matches to look at possible candidates for the West Indies Under-19 team.