Posted on
SVG part of impressive XVIII Pan American Games opening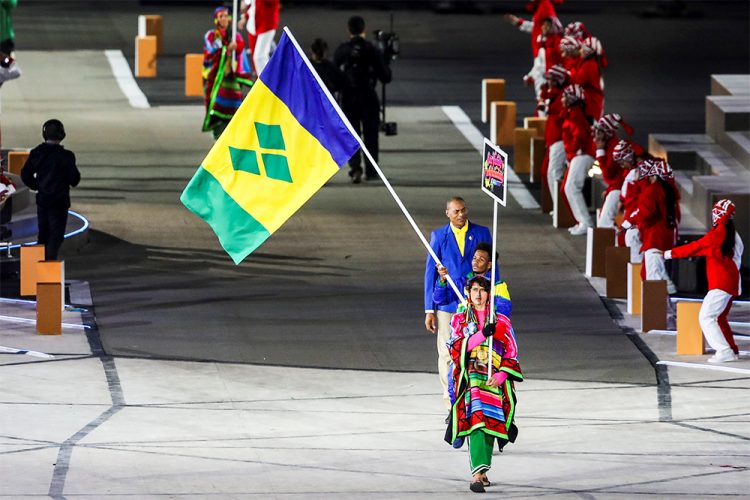 St Vincent and the Grenadines was among 41 countries represented at last Friday's opening ceremony of the XVIII Pan American Games, in Lima, Peru.
However, only road cyclist, Zefal Bailey and Chief–De–Mission, were on hand at the opening ceremony, as the other members of the St Vincent and the Grenadines team were due in at later dates.
This, though, did not stop the two Vincentians from being warmly received as they entered the stadium and their images seen on the large, mounted screens.
Among the many stand-outs at the opening ceremony were the fireworks, along with the over 1,700 performers, who took a journey through Peru's past and present.
Additionally, the ceremony had performances from Luis Fonsi, Juan Diego Flroez, Charlie Parra, Micha Tsumura, among others.
Reflecting on the ceremony and the Vincentian experience, Williams reasoned: "Anywhere there is a gathering of young people, there will always be a lot of energy and we had on show some of the most energetic people in the Americas".
Meanwhile, flag bearer Bailey stated, "It was not my first opening ceremony at a major games, but carrying the flag was a good experience".
Bailey quipped, that the weight of the flag pole was "unbearable" at times.
Apart from Bailey, the others selected to represent St Vincent and the Grenadines, are track athlete Brandon Parris and swimmers Mya De Freitas and Cruz Halbich.
Swimming is set to begin August 6, while Parris is set to compete on August 8.
Bailey races on August 10, the penultimate day of the Games.
This year's Pan American Games is the largest in its history, with 6,680 competitors in 39 sports registered. The games run until August 11.
Apart from seeking for the gold, silver and bronze medals that are in the offing, 22 of the disciplines will also be qualifying events for the 2020 Olympic Games, set for Tokyo, Japan.