Posted on
Vincentian gymnasts return from two-day Caribbean Gymnastics Championships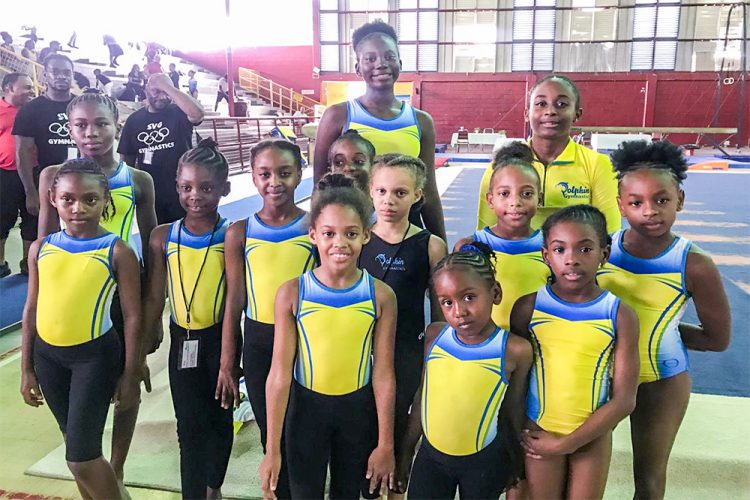 The two-day Caribbean Gymnastics Championships 2019 concluded in Trinidad on Saturday, June 15, where a team of 14 gymnasts represented St. Vincent and the Grenadines, competing against athletes from Aruba, Barbados and Trinidad and Tobago.
St Vincent was represented by Amelia Williams, Mia Castillo, Azaria Lewis, Saché-Ann Weekes, Adia Hooper, Latisha Sutherland, Lydia Sutherland, Katriel Bailey, Samara Haynes, Jonique Ford, Leanna Bailey, Lau Browne, Lisha Beache, and Chiamaka Jackson.
Team SVG competed in all events: Vault, Uneven Bars, Balance Beam, and Floor Exercise in pre-Comp and level 1-4 displaying poise and strength as they went through their routines during the competition.
Results:
PRE COMP-3rd All Round on every event Amelia Williams
LEVEL 1- 3rd All Round on every event except floor Azaria Lewis
LEVEL 2- 3rd All Round on every event Katriel Bailey
Katriel Bailey was the highest all-round and individual scorer from SVG, who scored 9.4 on Vault, 9.65 on Bars, 9.4 on Beam and a 9.3 on Floor, which earned her an allround score of 37.75.
Individual Events
LEVEL 2 – 3rd on Beam Lydia Sutherland
LEVEL 4- 3rd on Vault Chiamaka Jackson
Team
Level 1-2nd all round
Level 2-2nd all round
Level 4-3rd all round