Posted on
North Leeward female softball cricket competition bowls off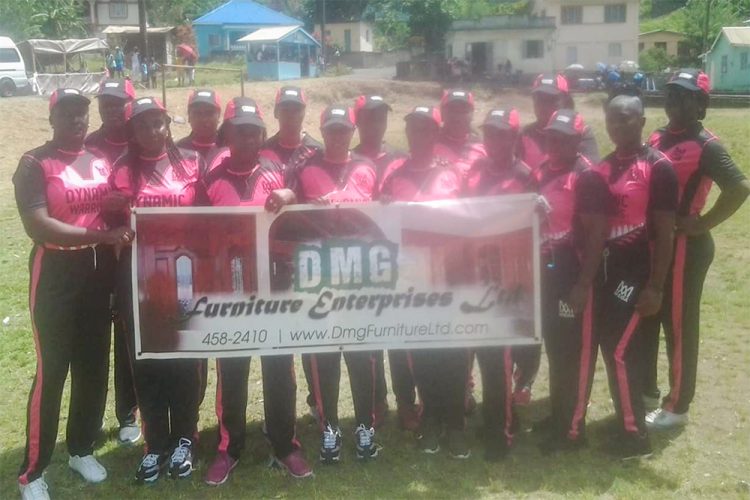 The 2019 DMG Furniture Enterprise North Leeward Sports and Cultural Organisation  female 20/20 softball cricket competition, got off in earnest last Sunday at the Sharpes Playing Field in Chateaubelair.
Chalking up victories were Ball Burners and MSDA Golden Girls.
Ball Burners registered a seven-wicket win over Upsetters.
Denel Creese's 42, was the leas score in Upsetters' total of 99 for 5 from 16 overs, as the match was reduced because of rain.
Ball Burners replied with 100 for 3 in 9. 4 overs. Zavian Stephens struck 31 not out and Tonicia Creese contributed 26.
Then MSDA Golden Girls, on the back of 94 from Shanel Mc Kie, reached 155 all out from 17 overs.
For Dynamic Warriors, Josella Hooper had 4 for 29 and Kayann Carter, 2 for 29.
Dynamic Warriors scored 70 all out, Nakeitha Murray, 21 and Paula Robertson, 20.
Christel Trumpet snared 3 for 12 and Liliette Corke, 3 for 15, as MSDA Golden Girls won by 76 runs.
The competition continues this weekend with four matches.
On Saturday from noon, We FM Beach Front Girls meet Rockley Girls of Troumaca, with Upsetters taking on MSDA Golden Girls from 4 p.m.
Then on Sunday from 12 noon, Ball Burners face Golden Girls, and Ball Burners will be again in action from 4 p.m., versus Dynamic Warriors.
The competition opened last Saturday with six of the seven teams participating in competition, engaged in a six-a-side festival, which was won Rockley Girls.
In addition, Dynamic Warriors won the best dressed team award.