Posted on
Seishin retains national karate championships title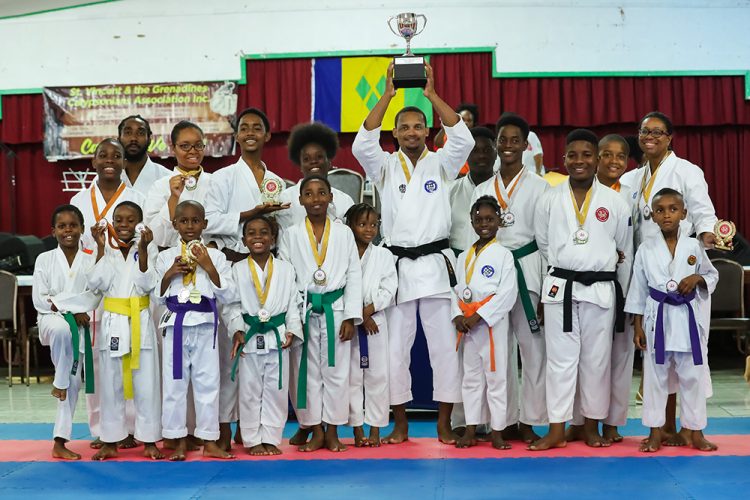 Tallying 26 medals, including10 gold, 12 silvers and 4 bronze, the Seishin Karate Club Inc. won the IKD National Karate Championships, last Sunday at the Russell's Auditorium.
Following the precisions in the Kata and the sparring in the Kumite, the Seishin Karate Club proved to be head and shoulders over the other two competing clubs – IKD Shotokan Karate Club and Shotokan Ryu Karate .
IKD Shotokan Karate Club pouched 7 gold, 6 silver and 8 bronze, to finish second, while Shotokan Ryu Karate  claimed 2 gold, 2 silver and 2 bronze.
Seishin, though, was outshone by IKD Shotokan Club in the Team Kata.
IKD Shotokan Club trumped the 9-11 mixed, with the combination of Jefuan Duncan, Mc Quinn Mockett and Anika Lowmans, getting the judges' nod.
Meanwhile, the trio of Joel Mason, Richard Daize and Cornelius Peters took the 12- 15 age group and Alvin Seales, Zabdiel Searles and Marcus Caesar won the adult men category, to add two more team titles to the IKD Shotokan Club's count.
Seishin was victorious in the 6-8 mixed Team Kata, via the precision of Darius Humphrey, Ethson Providence and Zuriel Duncan, with Allyson Bascombe, Shazelle Isaacs and Zalika Henry, winning the adult women's Team Kata.
In the individual awards, Seshin Karate Club and IKD Shotokan Club, shared the honours with three titles each.
Darius Humphrey won the 5- 8 mixed category, Allyson Bascombe – the women's 18 and over, and Claude Bascombe Jr, the men's 18 and over, to give Seshin Karate Club, their three individual titles.
Jefaun Duncan copped the girls' 9-11, Mc Quinn Mockett – the boys 9-11, and Joel Mason, the boys' 12- 15, thus accounted for IKD Shotokan Karate Club's three titles.
And, Trudi Quashie won the girls 11-12, to land the Shotokan Ryu Karate Club's lone individual title.
The Seishin Karate Club won the inaugural IKD National Championships, staged last December, also at the Russell's Auditorium venue.