Posted on
X- Cel, High Performance lead national championships standings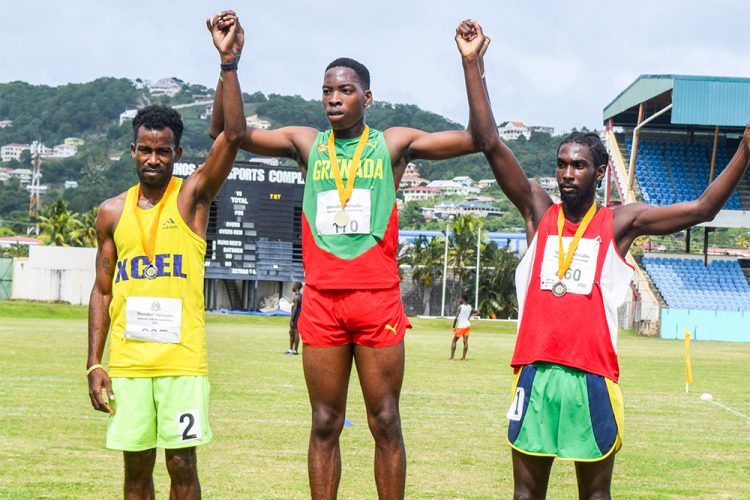 When the points were tabulated at the end of the Wendell Hercules national championships, X- Cel Track Club and High Performance headed the standings in the two categories, and by some distance.
Held at the Arnos Vale Playing Field, May 4 and 5, X- Cel Track Club led the male category with a total of 307.5 points, while High Performance tallied 297 points, to win the female segment.
High Performance was second in the male category, behind X- Cel, with their 201 points.
Third in the male, was Roses Academy – 183.5 points; X- Ceed Sports Club – 166.5 points and Troumaca Ontario Secondary School was fifth on 117.5 points.
Grenada, with 103 points; the St Vincent Grammar School – 68, Bequia United – 58, Bethel High School – 55, Chatoyer Club – 47, IT- DAT Academy – 20; West St George Secondary School – 14 and Speed Force – 10 points, complete the male order.
In the female bracket, trailing High Performance in second place was X- Ceed Sports Club – 158 points, with Roses Academy third on 79 points.
Troumaca Ontario Secondary School – 48 points and the IT DAT Academy – 43 points, close out the top five.
And Bethel High School – 34 points; Grenada- 20, X- Cel Track Club – 18, Bequia United – 17 and the Chatoyer Club – 10 points, followed in that order.
The Wendell Hercules National Championships, an undertaking of Team Athletics SVG, will be used a basis for selection to St Vincent and the Grenadines teams to regional and international meets.