Posted on
Hercules family honoured by Team Athletics SVG's gesture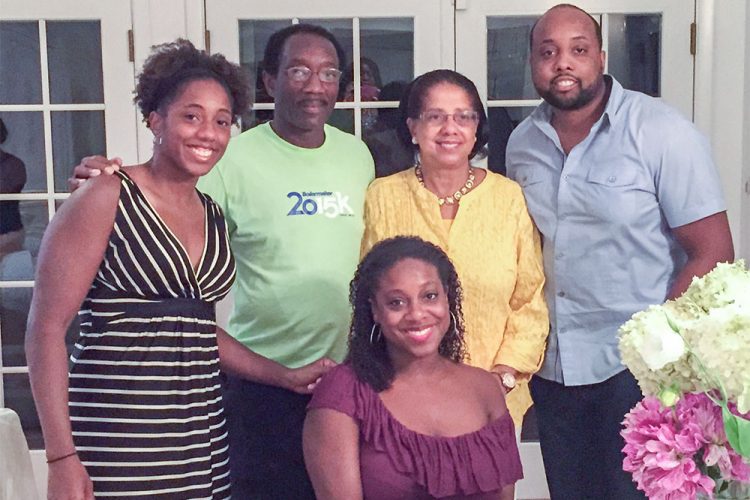 Team Athletics SVG's gesture of naming their National Championships after the late Wendell Hercules, has been seen as an "honour" by the immediate family of the former national athlete.
Members of the Hercules family journeyed from the USA, and were on hand last Saturday and Sunday at the Arnos Vale Playing Field to witness the Wendell Hercules National Championships.
Speaking on behalf of her family, widow Hazeldene Hercules said: "It is gratifying… This is a way that his legacy can live on … And, for Team Athletics SVG to really brand this National Championships, in his name, is a wonderful achievement and we thank them for that".
Continuing her praise for the local track and field body, Mrs. Hercules reported, "Team Athletics SVG has been gracious… They have reached out to us by making us feel at home…We are not going to hesitate to be part of this going forward".
She said that the idea of giving back came as a recompense, as St Vincent and the Grenadines provided him with opportunities to use his athletics talent to earn a full scholarship to Idaho University in the USA.
Mrs. Hercules said that apart from the National Athletics Championships, plans are in train to have a scholarship named in honour of her husband.
"We want to give back to the community by giving a scholarship to someone going on to post-secondary education, to help defray the cost of books, tuition, a laptop, whatever to make the person's life better," Mrs. Hercules proposed.
Last weekend's championships saw the participation of members of 13 teams, including a representative team from Grenada.
High Performance, X- Cel Track Club, IT- DAT Academy, the Bethel High School, X- Ceed Sports Club, Roses Academy, Troumaca Ontario Secondary School, the St Vincent Grammar School, Bequia United, Chatoyer Club, West St George Secondary School and Speed Force were the local clubs, which the athletes represented.
In his hey-day at the St Vincent Grammar School and later the St Martin's Secondary, Wendell Hercules acquired the nickname "Steel Donkey", in reference to his exceptional stride and stamina exhibited.
Hercules, as a national athlete, represented St Vincent and the Grenadines at various regional track meets.
After migrating to the USA, where he received a full track scholarship at the University of Idaho, Hercules gained a Bachelor's Degree in Civil Engineering.
He continued his love for the track, participating in several charities, as well as competitive runs in his second home.
Among some of Hercules' marks was the initiation of the "Running with the Angels 5K & 10K race, a fund-raising charity event for St. Peter's Church in Rochester, New York.
Hercules died in February, 2017, succumbing to stomach cancer.