Posted on
SVG second to Grenada in Windward Islands senior cricket title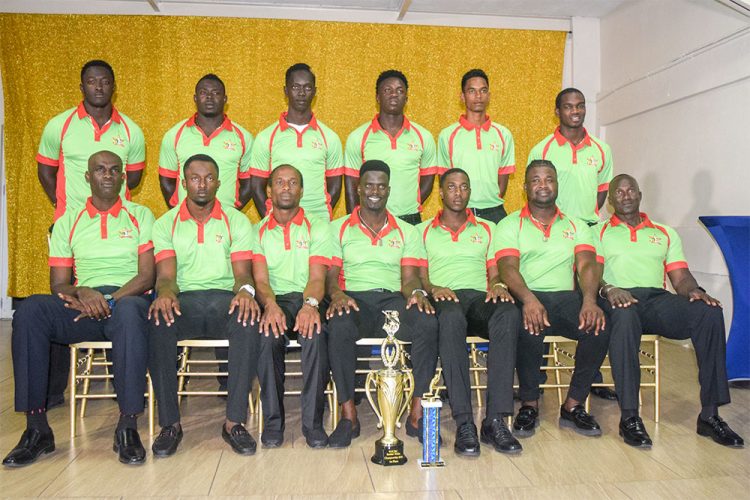 Host St Vincent and the Grenadines had to settle for second place, as Grenada emerged champions of the 2019 Windward Islands Senior men's tournament, which ended last Wednesday.
St Vincent and the Grenadines finished on 18 points, while Grenada's tally was 21.
The Grenadians avoided being defeated by St Vincent and the Grenadines at the Park Hill Playing Field in the tow teams' final match.
Replying to Grenada's 334, St Vincent and the Grenadines posted 364. Keron Cottoy stroked 11 fours and 8 sixes in his 105. Romano Pierre scored 67, Dillon Douglas, 56, Atticus Browne, 46 and Obed Mc Coy, 32.
Denis George took 3 for 73, Sherman Lewis, 2 for 12 and Preston Mc Sween, 2 for 63.
Batting a second time, Grenada was 22 without loss.
Grenada batted first and scored 334. Dennis Smith stroked 78, Ryan John, 67, Lindon Lawrence, 48 and Keone George, 46.
Bowling for St Vincent and the Grenadines, Kenneth Dember took 5 for 105 and Asif Hooper, 2 for 87.
At the Cumberland Playing Field, St Lucia posted 203. Jamaal James struck 68 and Larry Edward, 41.
Bowling for Dominica, Alick Athanaze had 5 for 69 and Vincent Lewis, 2 for 19.
Dominica replied with 287 for 8 declared. Alick Athanaze scored 102, Kershaki Jno Lewis, 53, Kevin James, 41 and Tahj Tavernier, 35.
Dornan Edward took 3 for 28 and Larry Edward, 2 for 81.
Batting a second time, St Lucia's Ackeem Auguste scored 92, while Kimali Melius and Jamaal James scored 31 each.
For Dominica, Tyrone Theophile had 4 for 60, Kevin James, 3 for 23 and Kharmal Hamilton, 2 for 38.
Dominica ended the tournament with 12 points and St Lucia, 6.