Posted on
SVG's males dominate inaugural OECS schools' Table Tennis tournament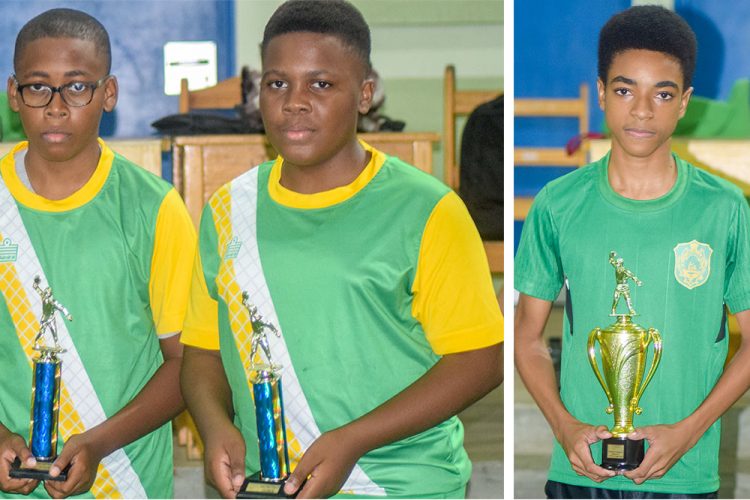 THE REPRESENTATIVE Team one from the St Vincent Grammar School, dominated the inaugural OECS inter- schools' Table Tennis tournament, which took place here last weekend at the West St George Secondary School.
Among the titles pouched were the teams' title, doubles and singles.
SVG, in securing the teams' title, beat St Lucia 3-0.
Winning for the St Vincent Grammar School Team One were Caleb Howard, Akeil De Roche and Michel Creese.
Howard beat Kenneth John 11-7, 6-11, 12-10, 3-11, 11-7, while De Roche outlasted Saneil Barnard 12- 10, 11-4, 11-9 and Creese registered a 14-12, 8-11, 11-13, 11-8, 11-6 win over Nate John.
Siblings Mirac Creese and Michel Creese saw off Shermal Williams and Vjay Valcin of the St John Christian Secondary School of Grenada 11-9, 11-7, 7-11, 11-6 to clinch the doubles title.
And, De Riche showed his class when he swished Nate John of St Lucia 11-8, 11-9, 11-8, as the two brought the end to the tournament in fitting fashion, last Sunday night, much to the delight of those who witnessed the epic final.
Before the meeting with John in the title match, De Roche had to get past fellow Vincentians Caleb Howard and Michel Creese.
De Roche clipped Howard 11-7, 6-11, 11-8, 11-7 and outdid Creese 9-11, 11-7, 11-8, 11-4, in the quarter-finals and semi-finals, respectively.
De Roche was therefore choice of the male MVP of the tournament.
He, though, had to settle for the runner-up spot in the mixed doubles.
Teaming up with Leah Cumberbatch of the Girls' High School, De Roche and Cumberbatch were defeated by Saneil Barnard and Zarianne Anthony of St Lucia.
The scores were 11-7, 10-12, 11- 9, 7-11, 11-2.
Anthony of the St Joseph's Convent of St Lucia, added the females singles and doubles titles to her collection.
She defeated fellow St Lucian Juelle St Clair 11-4, 11-2, 11-8 to cop the singles title, and with St Clair, won the doubles, which was played on a round robin format.
The St Joseph's Convent team of St Lucia beat the Girls' High School of St Vincent and the Grenadines 3-0, to claim the females' team title.
Anthony crowned off her sojourn in the tournament by being named the female MVP.
Apart from claiming three gold medals, host St Vincent and the Grenadines collected three silver and two bronze.
St Lucia topped the gold medal count with four, and added three silver and two bronze to their table.
Grenada had one silver and three bronze.
The tournament was the brainchild of the SVG Table Tennis Association, which is headed by Orville Haslam.