Posted on
BSSS returns from yet another successful swim championship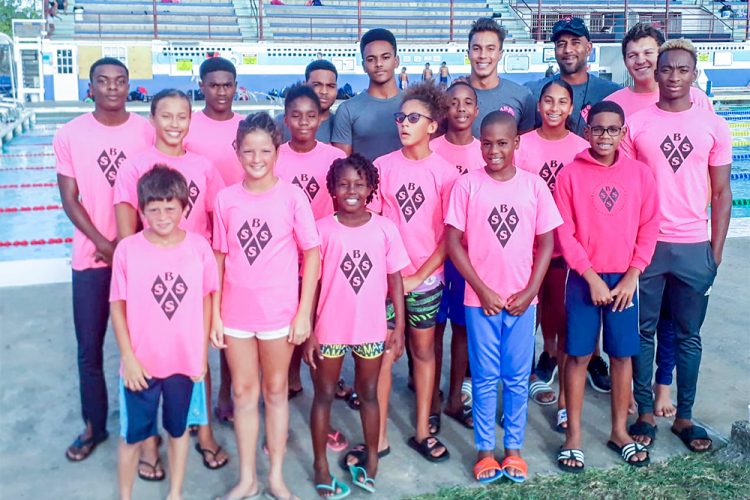 18 Black Sands Swim Squad members recently took part in the Barbados National Swimming Championships, from March 5 – 10, held at the 50-metre Aquatic Centre in Barbados.
It was the Leonard siblings that shone above the rest, with eight-year-old Eltonique Leonard winning every event she competed in, bringing home six gold medals. Her brother, Eltonte' Leonard won five out of the ten events he competed in, bringing home five gold and five silver medals in the boys 11 to 12 age group. Also swimming in that age group was Jayson Sandy, who battled hard to win three silver medals.
Siblings Mya and Aaron DeFreitas joined in on the medal success, with Mya bringing home one gold and one silver medal in the very competitive girls 13 to 14 years category and brother, Aaron, swam his way to winning one silver and three bronze medals. During the five-day competition Mya was able to break three SVG national records in the 13 to 14 years 100, 200 and 400 metre freestyle.
Competing without her famous swimming siblings, young Jamie Joachim brought home one gold medal in one of the toughest events in swimming, the 200 metre butterfly. Young Joachim also managed to get her name added to the SVG record books by breaking the 100 and 400 metre freestyle records for 11 to 12-year-olds.
Another SVG record-breaker at the competition was Miss Abigail Deshong. She smashed the 11 to 12 years 100 metres butterfly record by 18 seconds and also brought home two gold, one silver and two bronze medals.
In the boys 13 to 14 years age group Bryson George won one gold and four silver medals and hot on his heels was Tristan Ballah who brought home two bronze medals.
Seasoned swimmer Shane Cadogan put in some great performances and was able to win three gold and four bronze medals in the boys 15 to 17 age category, and in the boys 18 years and over category, Cruz Halbich claimed one gold, five silver and one bronze medal. Hot on his heels was Kyle "Johnny" John, who won two silver and two bronze medals.
In total the Black Sands Swim Squad swimmers brought home 20 gold, 26 silver and 10 bronze medals.
Other members of the Black Sands team were Adriel Bullock, Brandon George, Tia Gun-Munro, Joseph Hadley, Scarlett Hadley and Anwar Medjahed, who all swam extremely well and formed part of the strong team of 18 swimmers.