Posted on
Volleyball coach pleased with local response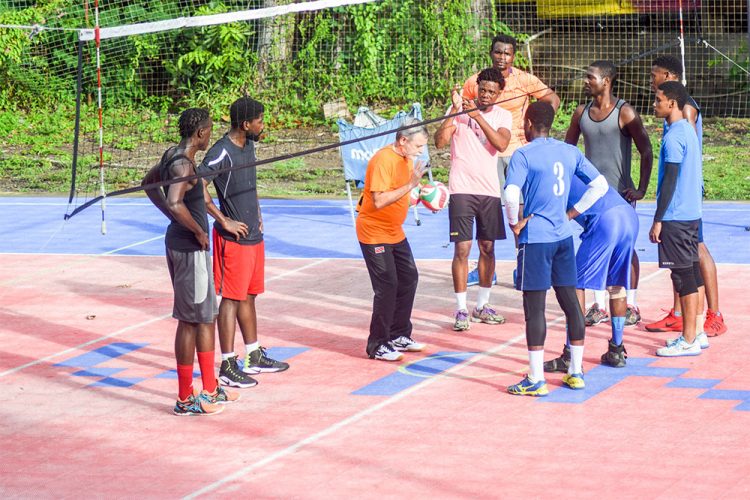 CUBAN–BORN VOLLEYBALL coach, and FIVB Level One Instructor Francisco Cruz Jimenez, is pleased with his stint working with the St Vincent and the Grenadines' Volleyball Association (SVGVA).
Since arriving last October, Jimenez has worked with schools and community teams throughout St Vincent and the Grenadines (SVG), as well as the national teams.
Assessing the progress of his charges, Jimenez related, "The men's team and the junior women's team are improving too… They are coming on nicely".
Speaking specifically about the senior men's national team, Jimenez commented "Every player is in very good condition…. They are tall, they have good general physical condition, which helps them."
The Cuban coach also lauded their willingness to learn, despite the absence of many support systems.
"They come to practice without a stipend, but they show interest…. They don't have an indoor court, but use what they have and that is good," Jimenez commended, as he at times struggled with his English
Zooming in on the facility available, Jimenez observed, "After 5:30 (pm) here (the Girls' High School hard court), you toss the ball and the ball moves, because of the wind … So that affects their precision, it affects the setter, it affects the spiker".
Jimenez said that since arriving in SVG, he has been well cared for by the executive of the SVGVA, for which he is grateful.
Commending the work of the SVGVA executive, Jimenez, is calling for greater support for the sport.
"The (SVG Volleyball) association needs to get more support…. They need to apply to the FIVB and NORCECA too, for more assistance," Jimenez proposed.
Jimenez thinks that such support is mandatory as St Vincent and the Grenadines' volleyball is making progress, mainly through the achievements of the senior men's team and the programmes of the SVGVA.
The SVG senior men's team has again qualified for the inter- continental championships later this year in Cuba, having won the Eastern Caribbean Volleyball Association tournament in Grenada, last November.
Jimenez possesses a Level III Volleyball coaching certificate, having studied at the Sports University in his native Cuba.
He began his work as Volleyball Instructor in 1967 and has worked as a Professor in the Cuban Sports University in Volleyball and in the Methodology in Sports Training.
Jimenez has had stints in the Dominican Republic as well as in Trinidad and Tobago, since 2005.
Trinidad and Tobago women's team has won six successive regional Volleyball titles, under the guidance of Jimenez.
Additionally, Jimenez has helped Trinidad and Tobago to the 2010 Central American and Caribbean Games in 2016 for the 2017 Grand Prix.
Also, Trinidad and Tobago's women team qualified for last year's World Championships which was held in Japan.