Posted on
Outa Trouble vs Sion Hill Tallawahs in TBPO softball final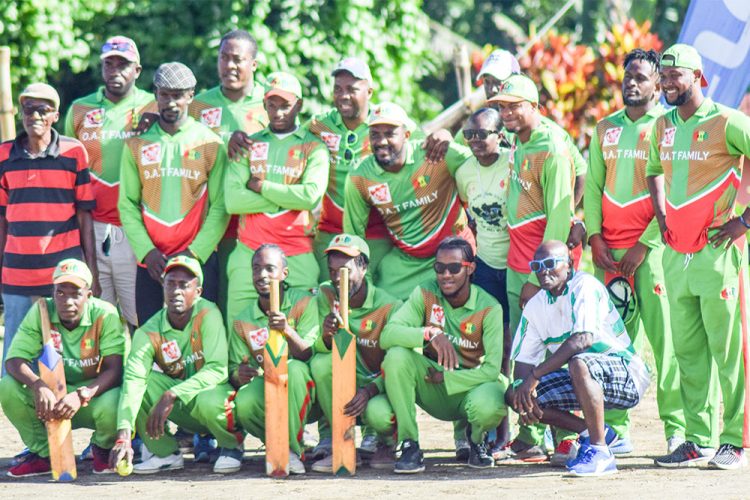 Country Meet Town Outa Trouble will meet Sion Hill Talllawahs from 1 p.m. this Sunday, at the Dauphine Playing Field, in the final of the National Lotteries Authority Top Belair Progressive Organisation (TBPO) 20/20 softball cricket competition.
The two earned the right at a shot of the title, by successfully coming through the semi-finals, last Sunday.
Outa Trouble, fresh from winning the Greiggs competition just over a week ago, stopped former winners Gairy's Construction Simple Boys, by 57 runs.
Batting first, Outa Trouble scored 132 for 8 from their 20 overs. Kenron Williams scorede 26 not out and Kadir Nedd, 24.
Bowling for Simple Boys, Keneal Skinner picked off 3 for 9, Stein Joseph, 2 for 17, and Eldon Morris, 2 for 30.
Simple Boys, in reply, scored 75 all out in 16 overs, with Calbert Simon making 42.
For Outa Trouble, Deroy Straugh had 3 for 12, Kenron Williams, 3 for 17, and Davian Barnum, 2 for 4.
In the other semi-finals, Sion Hill Tallawahs swished Clinchers by 74 runs.
Tallawahs' 127 for 5 from their 20 overs, saw Shamic Roberts stroking 49 and Alex Roberts, 21 not out.
Chris Humphrey was Clinchers' most successful bowler, taking 2 for 36.
Clinchers' batsmen were dismissed for 63 in 14.1 overs, undone by the bowling of Shawn Williams, who took 3 for 14, Denson Hoyte, 2 for 1, and Kerwin Williams, 2 for 13.
Both Outa Trouble and Sion Hill Tallawahs had to overcome their opponents on Saturday in the quarter-finals.
Outa Trouble had a 69-run win over New Level, in a 17-over affair, occasioned by rain.
Kadir Nedd's 50 and Davian Barnum's 45, propelled Outa Trouble to 160 for 7.
Bowling for New Level, Rawdon Bentick had 2 for 31, and Kenneth Lewis, 2 for 44.
New Level's reply was 91 all out in 14.4 overs. Kenroy Williams snared 3 for 29.
And, Sion Hill Tallawahs beat Bank of SVG All Stars by six wickets in a match reduced to 15 overs, because of rain.
All Stars made 82 all out from 14.4 overs, with Hugh Toby scoring 23.
Tallawahs' most successful bowler was Omari Sutherland, who took 5 for 9.
Tallawahs, in response, made 86 for 4 from 13 overs. Kerwin Williams scored 23 and Denson Hoyte, 21.
Kelly Murray took 2 for 24.
Before this Sunday's final, Clinchers and Simple Boys will square off in the third place play-off on Saturday from 2:30 p.m.
A presentation ceremony will take place following Sunday's final.