Posted on
Mustique commands masters' cricket title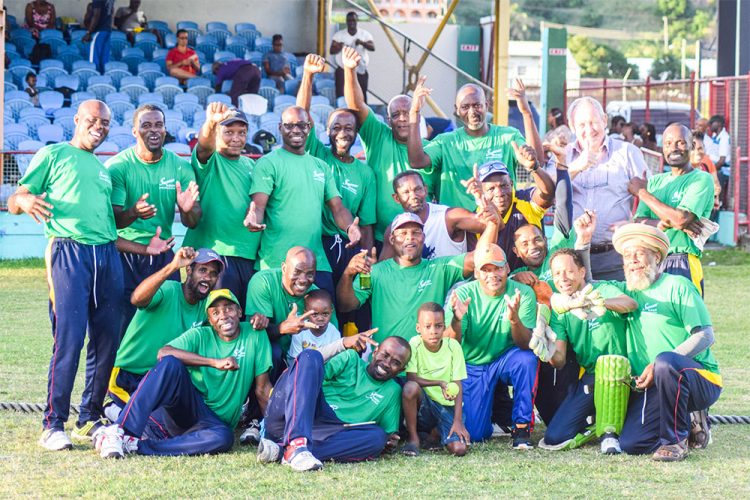 The Mustique Company Masters, were last Sunday installed as the new champions of the SVG Masters 20/20 cricket competition.
Mustique continued the unbeaten run in the competition, finishing a perfect run by beating RSVG Police by 34 runs at the Arnos Vale One Playing Field.
Batting first, Mustique posted 149 for 8 from their 20 overs. Julian Lampkin scored 42 not out, Nicholas Baptiste, 33, and O' Neil Thomas, 26.
Renford Jack was the pick of RSVG Police's bowling taking 4 for 25.
Police's innings never got going, losing wickets at regular intervals, hence, were hemmed in at 115 for 8 from their 20 overs.
Bowling for Mustique, Michael Charles snared 3 for 38 and O' Neil Thomas had 2 for 15.
Trevor Bailey topscored for RSVG Police with 38.
For champing the title, Mustique took home the winner's trophy and $1,200, while RSVG Police got the second place trophy and $800.
Both finalists had advanced to Sunday's title match, as they got past their semi-finalists opponents on Saturday.
Mustique overcame Computec Belfongo by nine wickets at Arnos Vale two.
Belfongo made 139 for 5 from their 20 overs, with Bertram Stapleton scoring 73 not out.
Mustique replied with 141 for 1. Nicholas Baptiste scored 71 not out and Sinclair Bascombe, 48.
In the other semi-final, RSVG Police ensured that the 2017 champion North East was ousted.
Playing at Arnos Vale One, North East made 89 for 9 from their 20 overs, which RSVG Police wipped out, scoring 92 for 3 from 14.1 overs. Gosnel Cupid stroked 43 not out, as RSVG Police won by seven wickets.
North East and Mustique, were the two zone winners.