Posted on
United Survivors champ again Greiggs women's 10/10 softball cricket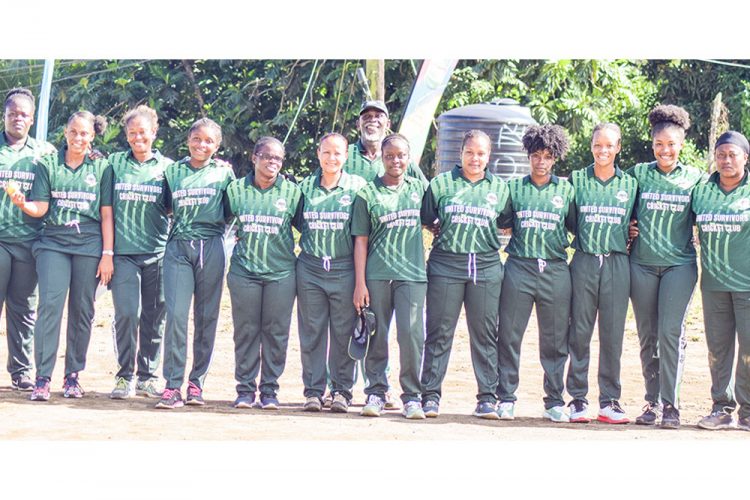 With the constant chant of "In order to survive we have to unite", United Survivors Cricket Club, last Sunday at the Greiggs Central Playing Field, kept hold of the Hairoun Brewery FLOW Sea Operations Nar Fren Dem Greiggs women's 10/10 softball cricket competition.
In their usual domineering fashion, United Survivors doused Ball Burners by 38 runs.
Batting first, United Survivors, on the back of 36 scored by player of the final, Samantha Lynch, and 33 from Kimone Homer, reached 102 for 1 from their 10 overs.
In response, Ball Burners scored 64 for 6 from their 10 overs, with Shanel Mc Kie making 30.
Taking third place was Sea Operations Nar Fren Dem, as they won by default from Hairoun North Leeward, who failed to show for the play-off on Saturday.
Topping the list of individual awards was Cordel Jack of United Survivors, who was named player of the tournament, as she scored 198 runs and captured five wickets.
Jack added the most runs trophy to her collection.
The top wicket-taker was Zavian Stephens of Burners, who fetched six wickets, with Edelyn Turtin, also of Ball Burners, the most promising player.
Turtin scored 113 runs and scalped five wickets.
Meanwhile, Fayanna King of Nar Fren Dem was compensated with a trophy, for taking the best catch of the tournament.
Five teams contested the women's 10/10, which was run alongside the men's 20/20.