Posted on
Outa Trouble joyous in Greiggs cricket competition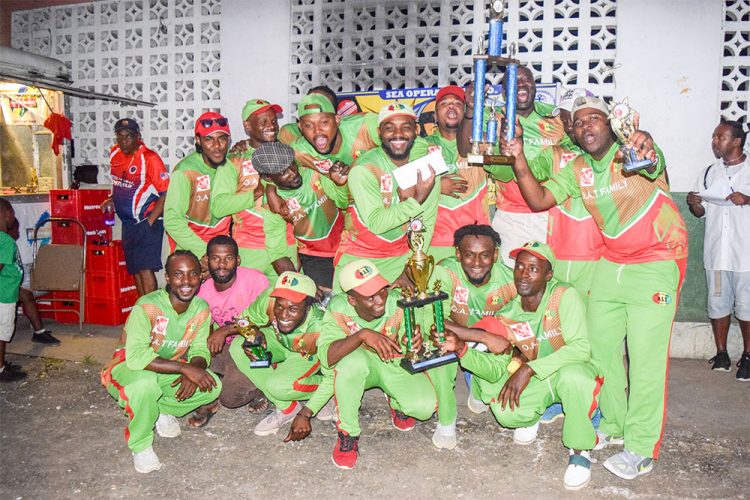 Country Meet Town Outa Trouble left the Greiggs Central Playing Field last Sunday as champion of the 2018 men's of the Hairoun Beer/ FLOW/ Sea Operations Nar Fren Dem Greiggs 20/20 softball cricket competition.
 A commanding 70-run win over Israel Bruce Smashers Inc., handed Outa Trouble their first taste on the competition's title.
 Outa Trouble had put themselves in a good position, after scoring 177 for 8 from their 20 overs.
Leading the way were Richie Richards, who made 40 and Kadier Nedd, who contributed 37.
 Renrick Peters was the pick of Smashers' bowling, snaring 4 for 32 and Anthony John had 2 for 25.
 Smashers were always playing catch-up, as they lost wickets at regular intervals, before folding at 107 from 14.3 overs.
 The topscorer was Zeron Harry, who made 40. Bowling for Outa Trouble, Deroy Straugh took 3 for 24 and Davian Barnum, 2 for 21.
 Outa Trouble reached last Sunday's final, beating Bank of SVG All Stars on Saturday.
 Outa Trouble posted 207 for 9 from their 20 overs. Kadier Nedd contributed 56.
 Bowling for All Stars, Glenroy Dascent took 3 for 27, and Dwayne Williams, 3 for 56.
 All Stars were hemmed in at 144 for 8 from their 20 overs, with Asquith Mapp scoring 51.
 Richie Richards took 2 for 11 and Kenron Williams, 2 for 34, as Outa Trouble won by 63 runs.
 And, All Stars suffered a second loss on the weekend, defeated by former champions Owia Young Strikers in the third place play-off.
 All Stars made 66, to which Owia Young Strikers replied with 67 for 2.
 For winning the title, Outa Trouble pocketed $2,500 and a trophy and a year's hold of the challenge trophy. Smashers collected $1,500 and a trophy, and Owia Young Strikers, $1,000 and a trophy.
Twenty-one teams participated in the men's 20/20.