Posted on
Vincentian athlete heading to the NFL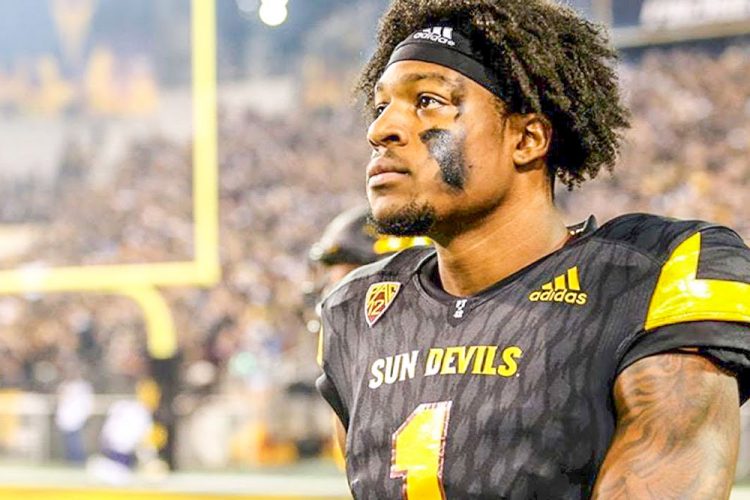 For the first time in history, a Vincentian is heading to the National Football League (NFL) in the United States of America (USA).
That person is N'Keal Harry, son of Vincentian Naudine Harry, an employee at the St Vincent Electricity Services Limited (VINLEC).
Harry, a student at the Arizona State University (ASU), announced on Monday he will forgo his senior season at ASU and enter the NFL Draft next year.
Harry is a junior wide receiver and return specialist. He is 6-foot-4, 221-pounds and ranks 15th in the USA in receiving yards with 73 catches for 1,088 yards and nine touchdowns, helping his team the Sun Devils to a second-place showing in the Pac-12 South after they were predicted to place last.
"It was an extremely tough decision," Harry said. "I love this university. I feel like I came here as a boy just trying to find his way and I'm leaving here a man because of this university and all it offered," he said on Monday at a press briefing to announce his move to the NFL.
Harry was born in Canada and came to SVG as a baby where he lived at Lowmans Hill. He migrated to the US at the age of three with his grandmother Selna Harry.
Commenting on her son's success at football, his mom Naudine said, "I am really very proud of him. He has really worked hard for this and it is something that he has always dreamed about and I am happy and excited."
The proud mom said that her son will be 21 in two weeks time and his entire family is rooting for him. She said when he chose football above all other sports, the family was a bit worried because of the rough nature of the sport but N'Keal was born to play football.
"He had a choice with Basketball and other sports because he was always athletic but he stuck to American football," said Naudine who added that N'Keal's sister Rheanna is also very proud of him.
N'Keal is slated to be a first round pick in the NFL draft which takes place next April.