Posted on
Velox hat tricks Barrouallie's titles….Georgetown encores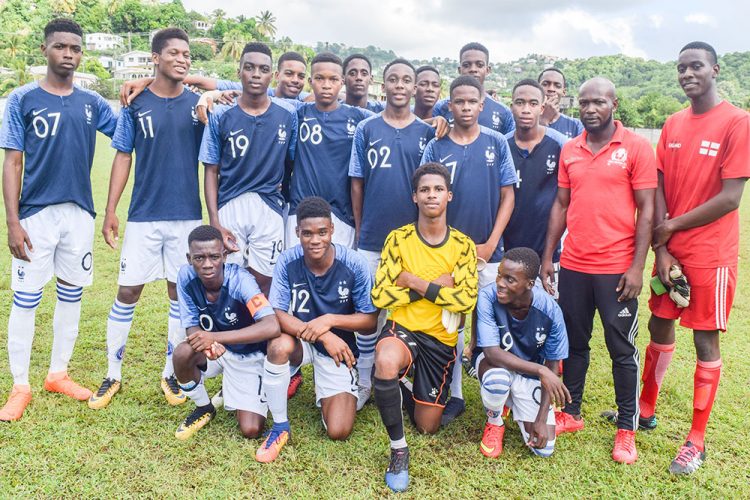 A hat-trick from Oryan Velox helped Barrouallie Secondary to claim their third straight junior division schools' football title, while Georgetown Secondary remained in charge of the seniors, when the 2018 secondary schools' football tournament ended last Friday at the Campden Park Playing Field.
Velox hit goals in the 1st, 19th and 54th minutes, as Barrouallie beat St Vincent Grammar School, 6-3, in a lopsided final.
The other scorers for Barrouallie were Jaheim Charles in the 15th minute; Jamary Davis – 21st minute, while Kamol Griffith netted in the 41st minute.
Denzel Bascombe, in the 3rd and 60th minutes, and Leonzo White, in the 27th, made up the Grammar School's three-goal response.
In the senior division final that followed, Georgetown Secondary copped their second consecutive title and their third in four years, in a gutsy duel against Dr JP Eustace Memorial.
Georgetown got on to the score-sheet in the 16th minute through Terreson Joseph.
Dillon Moore brought parity to the match with a goal in the 40th minute.
Thirteen minutes later, Kadeem Duncan restored Georgetown's lead, but Rahim Sam levelled the match with a late penalty in the 70th minute.
Both teams then played out ten minutes of extra time, did not change the scoreline.
But at the kicks from the penalty spot, Georgetown scored 3 of their 6 kicks, while Dr JP Eustace Memorial was successful with 2 of their 6.
Awards
Barrouallie's Oryan Velox was named player of the final in the junior division, with Georgetown's Kadeem Duncan, the choice in the senior division.
Getting the most goals award in the junior division was Barrouallie Secondary's Jamary Davis and in the senior bracket the top goal-scorer was Kadeem Duncan of Georgetown Secondary.
Securing the best goalkeeper accolade in the junior division was Darwin Davis of Barrouallie Secondary, and in the senior division, the Georgetown Secondary's Ovandi Billy was the recipient.
With the absence of a presentation ceremony last Friday, reports are that the awards would be sent to the schools, who would distribute them, preferably in the presence of the respective schools' population.