Posted on
SVGS, GHS, take lion's share of table tennis titles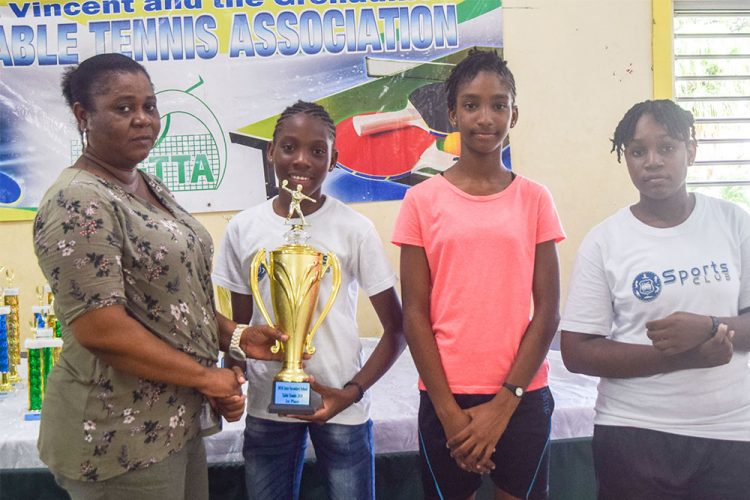 The St Vincent Grammar School (SVGS) won all the titles which were at stake in the male category, with the Girls' High School (GHS) taking all but one in the female segment, when the secondary schools' table tennis tournament ended October 31, at the St Vincent Grammar School's hall.
SVGS took the team title, the doubles and the singles.
In an all-SVGS team final, team one, represented by Caleb Howard, Akeil De Roche and Michel Creese, saw off fellow students Joshua Joseph, Juwan Howard and Mirac Creese, who composed team two.
Caleb Howard beat Joseph 7-11, 11-8, 11-5, 10-12, 11/9. De Roche overcame Juwan Howard 11-6, 11-7, 11-9 and Michel Creese beat Mirac Creese 11-8, 12-10, 11-3.
The duo of De Roche and Michel Creese then went on to edge out Caleb Howard and Andre Mitchell 9-11, 14-12, 8-11, 11-4, 11-3, to take the doubles title.
De Roche scooped another title when he unseated Caleb Howard 7-11, 11-5, 12-10, 11-9, in the singles final.
De Roche therefore copped the most valuable player award.
On the female side, GHS secured the team title, as well as the singles.
Facing Troumaca Ontario in the final, Leah Cumberbatch got over Shanecia Delpesche 11-4, 11-3, 11-8, while Kiara Hazel ousted Areka Hooper 11-3, 11-7, 11-3, and Karissa Moses had a 11-3, 9-11, 12-10, 11-3 win over Swanive Victory, as GHS won in straight sets.
Cumberbatch, on her way to be crowned the most valuable player in the female division, upstaged 2016 champion Vedel Charles of the St Joseph's Convent Kingstown 3-2.
Cumberbatch won 11-6, 8-11, 11-6, 3-11, 11-9.
And, Troumaca Ontario ensured that all the titles did not stay in Kingstown and its suburbs, by taking the doubles title.
Areka Hooper and Shanecia Delpesche saw off the pair of Zehonnah Garraway and Aliah Forde of the West St George Secondary 11-5, 11-8, 11-8, to win 3-0.