Posted on
Swimmers show their worth in Bequia open water championships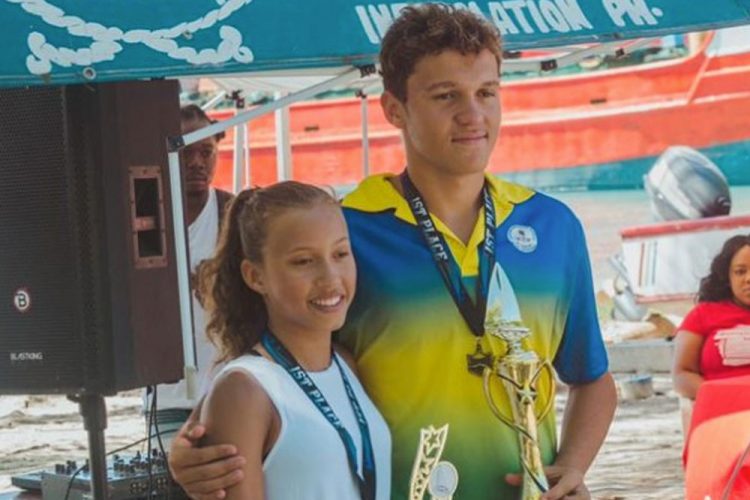 Nineteen swimmers were part of last Sunday's independence open water swim championships held on the Grenadine island of Bequia.
Three races – a 375-metre. event, a 750-metre and a 1.5 km swim, constituted the championships.
Copping the first place in the 375m. was Kylia Ollivierre, ahead of Sandy Friday, in second place.
Dennis Sutherland was first among the males. Taking second was Omarion Frederick and third was Aiden Ollivierre. This event was for swimmers 11 years and under.
In the 750m. event, Kate Ollivierre won the female 13-14, with Ariana Ollivierre docking in second. Samari Ragguette was the winner of the 13-14 male category.
The 750m. also had a 15 and over category, as Krista Bynoe was first in the female category, and in the male category national swim coach Kyle Dougan was first and Corsoni Pollard, second.
Mya De Freitas was the winner of the female 1.5km. race, and it was Cruz Halbich, Alex Cyrus and Tavonte Forde, in that order in the male category.
The 375m. race started at the Ginger Bread Beach; the 750m. at Plantation House and the 1.5km., at Princess Margret Beach. All three races ended at the Almond Tree in Port Elizabeth.
The open water championship, which was titled "Swim the Bays", was a joint undertaking of the Bequia Traditional Sailing Academy, the St Vincent and the Grenadines Swimming Federation and the Rising Stars Swim Team of Bequia.