Posted on
SVG Cup is the springboard says Minister Mc Kie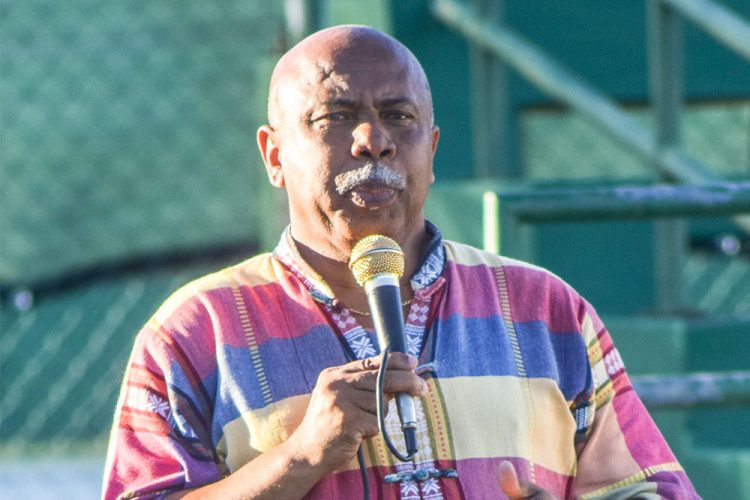 The inaugural SVG Cup, a one-week tennis tournament which concludes here today at the National Tennis Centre at Villa, is seen as a springboard for hosting of other events.
That is the view of this country's Minister of Tourism, Sports and Culture Ces Mc Kie.
Speaking at a brief ceremony last Sunday at the National Tennis Centre, Mc Kie outlined the framework for future development.
Mc Kie noted that the infrastructural improvements done to the Centre, is part of the bigger picture.
"Over the last year, we have spent close to half a million dollars, upgrading this facility… And we are doing so to host tennis events, regionally and internationally," Mc Kie advised.
However, Mc Kie disclosed broader engagements.
"Our doors are open to host other events … Not only to host tennis events here, but to invite teams and individuals to St Vincent and the Grenadines to camp, and we (are) also looking at the possibility of even having learning opportunities, while you utilise this facility for tennis," Mc Kie related.
The SVG Cup is the brainchild of Jamaican–born, Canada-based Karl Hale, who undertakes similar tournaments in other parts of the Caribbean region.
As part of the SVG Cup, there is an exhibition pro-match, featuring Daniel Nestor and Nicholas Monroe versus Vincentians Kirk Da Silva and Corey Huggins.
Nestor, a Canadian, has won eight grand slams doubles titles and four mixed doubles titles, while American, Monroe, has competed in singles at the US Open, Wimbledon and Australian Open.
But the main diet of the SVG Cup began on Monday with the International Tennis Federation (ITF) Under-18 tournament, which had participation from several countries, including Barbados, Brazil, Canada, China, Cuba, Great Britain, Grenada, Guadeloupe, Hong Kong, India, Jamaica, Japan, Mexico, the Netherlands, Puerto Rico, Spain, Trinidad and Tobago, USA and host St Vincent and the Grenadines.
Players are competing for male and female singles honours, as well as accolades in doubles play.
Hale, speaking to SEARCHLIGHT stated: "We are hoping to make this an annual event and improve tennis on the island".
He again underscored that with the hosting of the SVG Cup here, young Vincentian tennis players would get the exposure each year to visit Canada during the Rogers Cup there, to have their talents on display, with a hope to be scouted and ultimately gain tennis scholarships.