Posted on
Breakaway Masters Organisation remembers "Micey"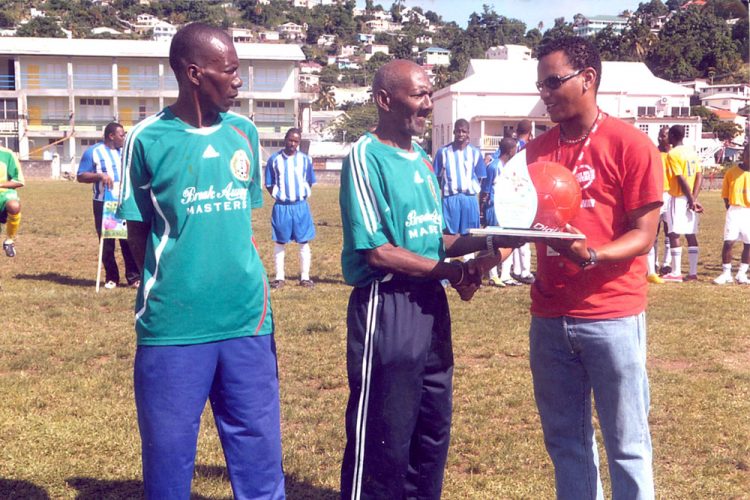 The Breakaway Masters Organisation, like many other footballers and former track and field enthusiasts, are mourning the loss of one of the own, Rudolph "Micey" Sutherland.
One who distinguished himself as a footballer and sprinter in his youth and young adult years, Sutherland died on October 23, at the age of 83.
President of the Breakaway Masters Organisation Leopold Dopwell, remembers Sutherland for his longevity in the sport, having played competitively beyond the age of 70, despite his physical limitations.
"One of the amazing things about Micey is that he just loved being on the field no matter what," Dopwell recalled.
Dopwell said that both he and Sutherland were part of Mwando Strikers, SVG Over 35s, as well as Breakaway Masters, hence their prolonged association.
His former teammates remember Sutherland as the one who always was the first player to put on his gear and became a role model, a mascot, and the symbol of Breakaway Masters football team.
Growing up in Kingstown, at the age of 11, Sutherland, a school boy, appeared competitively for Falcons football club that was based on Back Street in Kingstown.
By the early 1960s, he was selected as a member of the St. Vincent and the Grenadines senior football team.
Influenced by his teammates, the Jones brothers, (Babs and Zupang), Sutherland went to Trinidad and Tobago to show off his wares.
 By then, he was a Caribbean man, journeying to Dominica and other Islands in the region playing football.
In a tactical move, he joined the famed Notre Dame Football Club, which is still revered as one of the best-ever clubs that competed in the national championship.
Sutherland, who was a versatile player, served as a midfielder and striker, and was part of the 1965 St. Vincent and the Grenadines national team which boasted seven players from Notre Dame.
In athletics, Sutherland was a top sprinter in his heyday. According to his contemporaries, he was a youth who was full of life and loved to play practical jokes on others, which often got him into trouble, so he developed amazing getaway speed which helped to improve his football and nurture his athleticism. He has some claim to fame on the track, as he was known to have beaten Bernard Bunny Baptiste, who is believed to be this country's fastest ever athlete over 100 yards, as it was then.
Local sporting history has recorded Sutherland triumphing over Baptiste in a 60-yards dash.
Sutherland's blood-line also may have accounted for his prowess on the track, as he is the son of a local former track star, James Webb, who many would come to know for his inventive Schoolboy Mauby.
Sutherland, who moved to Kingstown Hill and then Sion Hill, where he started his family, is survived by his wife, brothers, children, grand-children and great grand-children. He will be buried tomorrow, Saturday.