Posted on
Vincentian footballers on MLS try out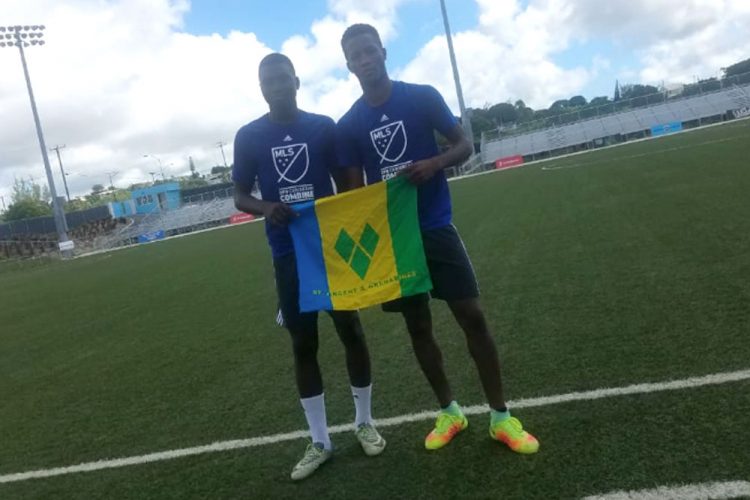 Two current members of the St Vincent and the Grenadines senior men's football team, Vincy Heat, are this week part of a try-out in Barbados with a view of making it to the US Major League Soccer (MLS).
The two are Chevel Cunningham, who represents local club BESCO-Pastures and Joel Quashie, a member of Avenues United.
St Vincent and the Grenadines is among 15 countries in the region whose footballers are part of the try-out.
The try-outs are open to players who are between the age of 18 and 23, and who must have at least one international cap at the Under-20 or senior team levels, during 2017.
Cunningham and Quashie are pitting their skills against representatives from the host country, along with Antigua and Barbuda, Dominica, Grenada, French Guiana, Guadeloupe, Guyana, Martinique, Montserrat, St Kitts and Nevis, St Lucia, St Maarten, Sint Martin, Suriname and Trinidad and Tobago.
According to the MLS, should a player be selected, the player's club will receive an Adidas allotment, in addition to a transfer fee of US$50,000.
This is contingent on if the player's MLS option for 2020 is exercised.
Additionally, there are performance fees which can be had.
Hence, US$25,000 goes to the player's former club, once he starts in 15 official MLS matches, $50,000 to the player's former club once the player starts in 30 official MLS matches and $100,000 to the player's former club once the player starts in 60 official MLS matches.
Also, a player's former club shall receive 20 per cent sell-on, as it relates to any transfer fees received by the MLS within the first four years of the player's employment in the MLS.
Previous to this week's try-out, a similar exercise took place in Jamaica last week.
Vincentian footballers Ezra Hendrickson and Oalex Anderson, have both played in the MLS.
Hendrickson's stint spanned from 1997 to 2008, where he played for six clubs during that period.
Anderson's sojourn in the MLS was in 2016, before he picked up a knee injury.