Posted on
SVGCA Inc supports Zero Hunger Trust Fund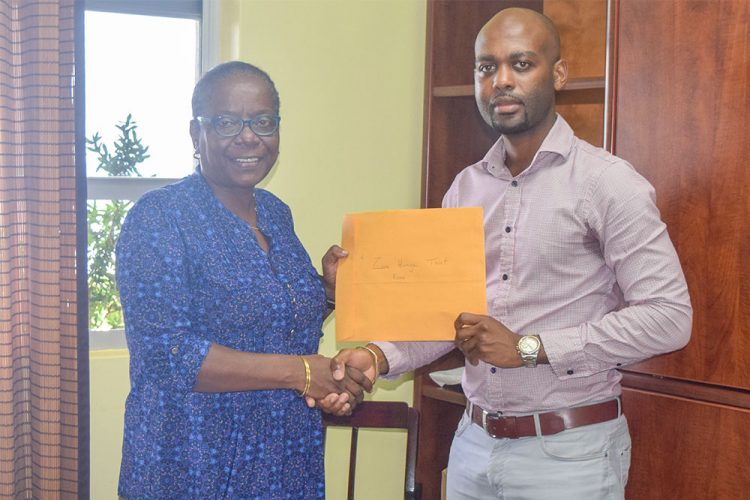 The Zero Hunger Trust Fund (ZHTF), last Tuesday, got topped up with a donation of $10 000 from the St Vincent and the Grenadines Cricket Association (SVGCA) Inc.
The cheque was presented to Laura Anthony Browne, Executive Director of the ZHTF, by President of the SVGCA Dr Kishore Shallow, at a short ceremony held at the Central Planning Unit's Conference Room, located at the Administrative Building in Kingstown.
Happy that his organisation has been able to make a contribution to the fund, Shallow noted that whilst it might be "small", the sum can assist many children under the ZHTF.
Shallow, though, promised that it would not be the last, as the SVGCA Inc. would endeavour to contribute once its coffers continues to be replenished.
Established in 2016 by an Act of the Parliament of St Vincent and the Grenadines, the ZHTF zooms in on targetted interventions, geared at eradicating hunger here in St Vincent and the Grenadines.
At present, the ZHTF has three flagship undertakings, which are the Adopt a Classroom Programme, Skills Training Programme and a Golden Years Nutrition Programme.
Anthony Browne said, at last Tuesday's handing over, that at present, children from 12 primary schools are involved in the Adopt a Classroom Programme.
The ZHTF executive director detailed the salient aspects of the programme.
"We start with them in Kindergarten and walk with them up to Grade Six we hope… We give them everything that they need to go school; all of their books… We give them money to buy their uniforms … We get their eyes checked… If they need glasses we provide for the glasses; we pay for the glasses and we are now doing medical assessment," Anthony Browne explained.
The ZHTF forms part of the St Vincent and the Grenadines' method of conforming to the Millennium Development Goals under the United Nations' Millennium Declaration.