Posted on
Caleb Howard seeks fourth straight schools' TT title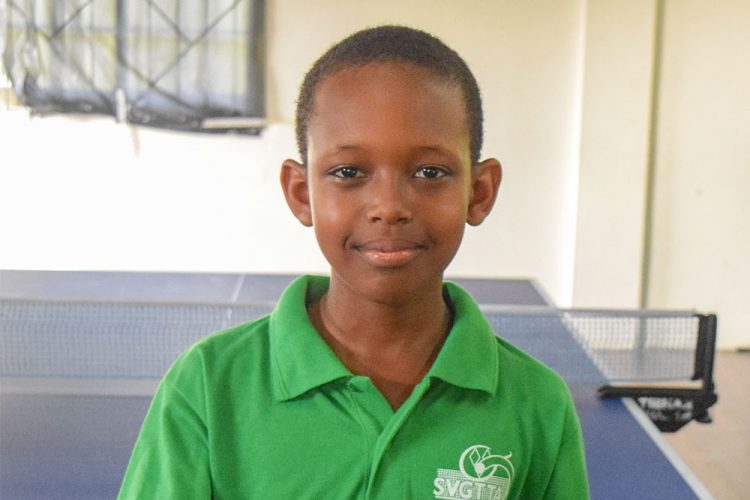 Caleb Howard is after his fourth straight schools' singles table tennis title.
Howard, as a student of the Sugar Mill Academy, secured back-to-back titles in the primary schools' category in 2015 and 2016.
Then, as a 12-year-old first-year student of the St Vincent Grammar School, Howard copped the singles crown last year.
Howard's destiny with history is set for October 31, when he squares off with Akeil De Roche in an all-Grammar School final.
The two will be at home, as the final takes place at the Grammar School's hall.
Howard reached the final by defeating Mickel Creese, also of the St Vincent Grammar School, in the semi-finals 11-7, 10-12, 11-6, 12-10.
The other side of the semi-finals saw De Roche upstaging Andre Mitchell 11-3, 4-11, 11-9, 13-11.
Mitchell, who is a former three-times winner and who represented at the 2018 Commonwealth Games in Australia, is also a student of the Grammar School.
But Mitchell, who was prevented from making it four in a row last year by Caleb Howard, will be Howard's partner in the semi-finals of the doubles.
They meet Juwan Howard and Joshua Joseph, for the right to play De Roche and Mickel Creese in the final.
It will also be an all-Grammar School final in the teams' competition, as team one and two have advanced to the final, with 3-0 wins over the West St George Secondary and Troumaca Ontario, respectively.
On the female side, Girls' High School and Troumaca Ontario battle for team honours.
Meanwhile, the Troumaca Ontario pair of Shanecia Delpesche and Areka Hooper meets Aliah Forde and Zehonnah Garraway of the West St George Secondary, in the doubles final.
And, the Girls' High School's Leah Cumberbatch faces the 2016 champion Vedel Charles of the St Joseph's Convent Kingstown, in the singles final, as the two seek to replace Julia Nichols of the Bequia Community High School, who trumped in 2017.
Cumberbatch will be seeking her first secondary schools' title, having won the primary schools' singles title in 2015 and 2016, then, as a student of the Kingstown Preparatory School.