Posted on
Year two DASGS leads in SVGCC football glut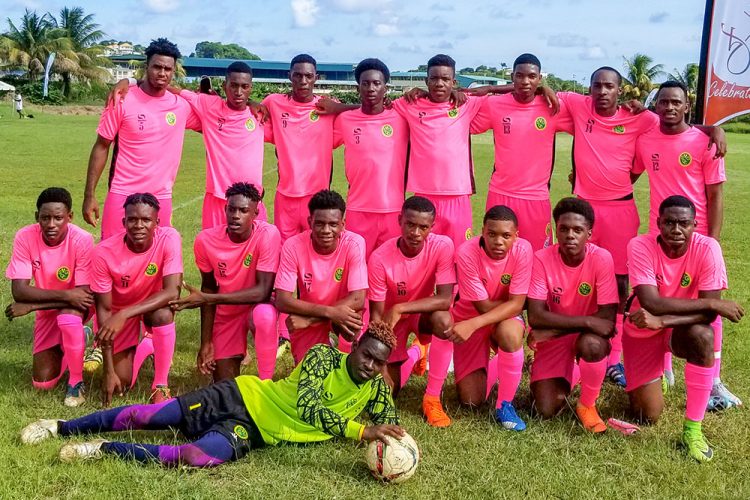 Year two Division of Arts, Science and General Studies (DASGS) has been responsible for scoring 13 of the 47 goals that have been netted thus far in the 2018 French Verandah National Lotteries inter-divisional football competition, which is in full swing at the Sion Hill Playing Field.
Year Two DASGS has won all three matches, with their third coming last Friday, beating All Saints Medical 4-0.
Mikal Quashie, J'Ron Smith, Lemus Christopher and Hosni Chandler, scored a goal each.
When Year Two DASGS met Year Two Technical/ Vocational, J'Ron Smith had a hat-trick, and there was a goal each from Erel Hector, Simeon Greene and Hosni Chandler.
Year Two DASGS toughest test thus far has come from Teachers/ Nursing Combined, but came through 3-2 winners.
Hosni Chandler, Arthur Laborde and J'Ron Smith scored for the victors, while Christopher Harry hit Teachers/Nursing Combined goals.
Like Year Two DASGS, Police Youth Club is also unbeaten, but after two matches.
Nigel Small, Ronaldo Williams and Orlando Trimmingham, scored a goal each as Police Youth Club ditched Teachers/ Nursing Combined 3-0.
It was the same scoreline for Police Youth Club when they faced Year Two Technical/ Vocational. Brian Bowens, Leroy Delpeshe and Junior Baptiste, were the goalscorers.
Meanwhile, last year's winners Year One DASGS, has drawn one and lost the others.
Year One DASGS drew 3-3 with Year One Technical and Vocational.
Jerry Cato, Chrisheur Harry and Joel Quashie, all netted a goal apiece for Year One DASGS, with Zadann Simmons – two and Jerron Dopwell, accounted for Year One Technical's goals.
Year One DASGS, was edged out by Just Graduated Combined 5-4.
For Just Graduated Combined, Gidson Francis and Marlden Scrubb, both scored braces and Terrance Maxwell, the other.
For the 2017 champions Chrisheur Harry and Garrett Leigertwood, each had two goals to their names.
In other results, first timers American University beat Just Graduated Combined, 4-2.
 Daniel Olayide and Gyimah Gabriel, with a brace each, netted for the victors, while Gidson Francis and Cheslon Hendrickson scored for Just Graduated Combined.
The competition resumes today at the same venue.