Posted on
Vincy Heat gives SVG pre-independence gift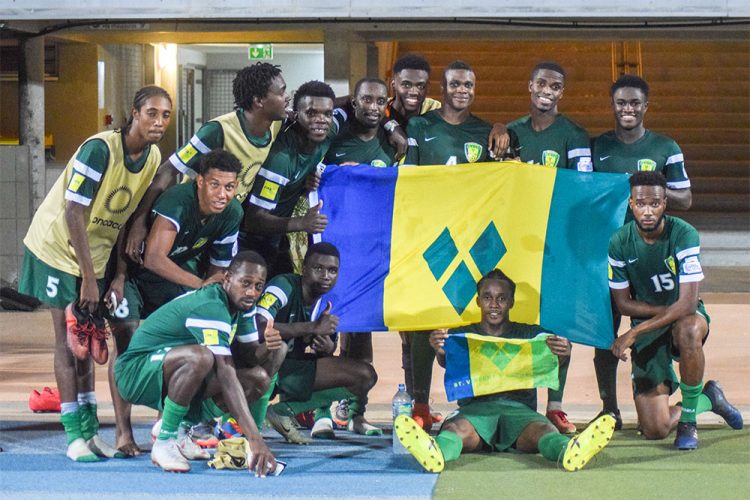 St Vincent and the Grenadines senior men's football team Vincy Heat, returned home last Friday, a joyous bunch, after defeating host French Guiana, on Thursday night at the Dr Edmard Lama Stadium in the CONCACAF Nations League qualifiers.
 It was a Azhino Solomon penalty in the 60th minute, that gave St Vincent and the Grenadines a one-nil win over the host.
 Solomon, who had earlier in the match, missed a straight-forward header, made amends when he went one on one with the French Guiana goalkeeper Donovan Leon from 12 yards out.
 The resulting penalty was as a result of a foul committed by Leon on Solomon's team mate Chavel Cunningham.
 The Vincentians had to ward off a marauding French Guiana outfit, whose swift passing in the midfield at times left them scrambling to get the ball away.
 Additionally, the French Guiana players used their physical superiority to good effect against the much frailer opponents.
 St Vincent and the Grenadines was kept in the match, by some daring saves made by Kevan Henry, who was superb in the goal.
 It was a relief for the visitors, who were looking forward to the victory, as a pre- independence gift ahead of the 39th anniversary of independence for St Vincent and the Grenadines.
 President of the St Vincent and the Grenadines Football Federation Marvin Fraser, who was in French Guiana to view the match, had told the players that winning the match would have been a "good independence gift" for the country.
 The win also kept the Vincentians in the qualifiers, after they had gone under to Nicaragua 0-2 on September 9, at the Arnos Vale Playing Field in St Vincent.
 The Vincentians next outing is away in Providenciales, against the Turks and Caicos Islands, on November 18.
 Their final qualifier for St Vincent and the Grenadines is at home against Bonaire, March 22, 2019.