Posted on
St Georges' Under-13 cricket camp stand outs rewarded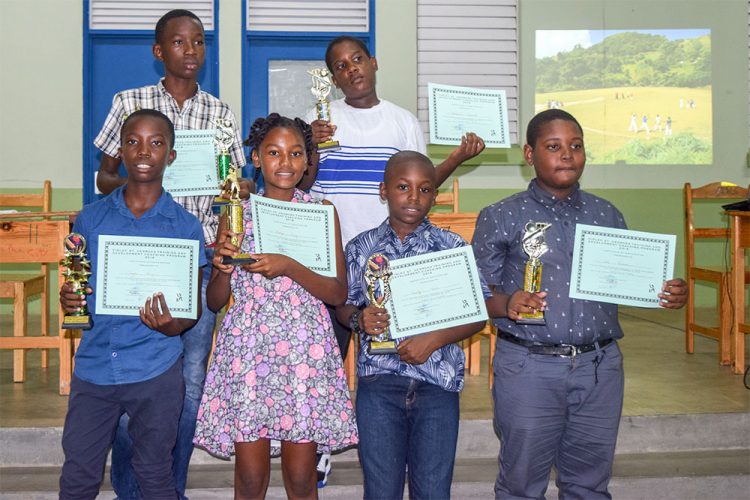 The stand-out performers in the inaugural St Georges' Under-13 training camp, which formally ended last Saturday at the West St George Secondary School, were rewarded with trophies.
Copping the Best Bowler award was female participant Zakayla Henry, while Deshorne Thornhill was adjudged the Best Wicketkeeper.
Luke Browne was the Most Disciplined Participant, Jayden Henry – Best All-rounder, Jeremy Martin – Best Fielder and Bowin Cain – Best Batsman and the participant with the Best Attendance.
Forty-eight players were part of the training camp which ran from July to September at the Dauphine Playing Field.
The numbers represented an increase in participants, as it was set at 30.
 
The initial named 30 were selected from the West St George cricket competition, which was held during the months of March and April of this year.
The first cohort in the programme, was made up of six students from each of the five schools which participated in the competition – Belair Government, Belmont Government, Dorsetshire Hill Government, Gomea Methodist and Sion Hill Government schools.
Funded by VINLEC, at the cost of $15 000, the training programme took place on Mondays, Wednesdays and Saturdays from 9:30 a.m., during the months of July and August, and thereafter on Saturdays only.
Students from Belmont Government, Dorsetshire Hill Government and Sion Hill Government, were bussed to the venue on those days.
 
Additionally, snacks were provided to the students on the days assigned for the training.
 
During the camp, the participants were exposed to the basics in batting, bowling, fielding and wicketkeeping, as well nutrition, rehydration, and other life skills.
 
The training camp had as its co-ordinator Samuel Holder.
The coaching team was headed by Ian Allen, who was assisted by Samantha Lynch, Cordell Jack and Kenroy Martin.
The brain–child of parliamentary representative for West St George Ces Mc Kie, a committee, which included Samuel Holder, Joel Woodley, Basil Weekes, Edward Conliffe, Urias King, Curtis King, Elvis Browne and Keith Constance, administrated over the camp.