Posted on
Sports leaders in unison against crime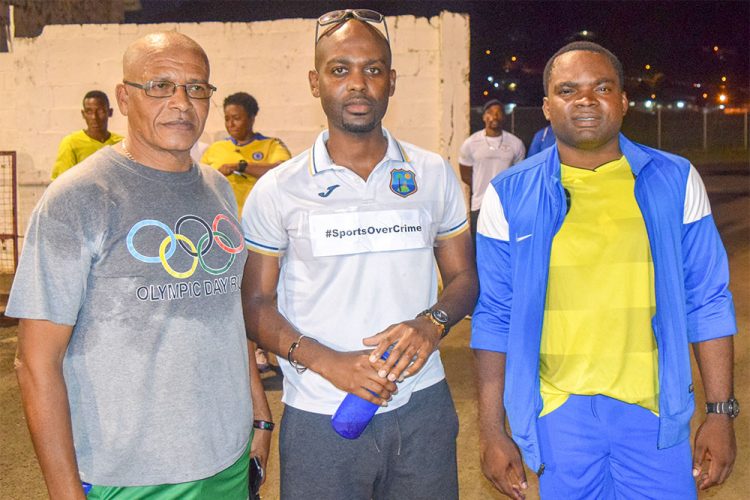 Concerned by the incidences of crime which has hit St Vincent and the Grenadines in recent times, three prominent sports leaders here, have vouched to use their respective disciplines to aid in positive engagement of the nation's youths.
This promise came last Friday, following the "Walk Against Crime" event, which was put on by the St Vincent and the Grenadines Cricket Association Inc.
The Walk Against Crime saw several persons from various sporting organisations and others walking from Diamond, culminating at the Arnos Vale Netball courts.
Pledging to continue assisting the youth population through football, was Otashie Spring, first vice-president of the St Vincent and the Grenadines Football Federation.
Spring, who is also the head of the SV United football club, said that he has lived through the social transformation of some of his players, who were often hauled before the courts.
 Spring, though, noted that since the formation of the SV United club, "only one" player has had a court matter in recent times.
He therefore is calling on others to assist the youths with their issues.
Spring reasoned: "Government may bear the most of the responsibility to combat crime, but I refuse to believe that they are the ones who are solely responsible… Everyone has to play his/her part".
Similarly, president of the SVG Cricket Association Inc. made the plea for a collective response to the crime situation, as he stated, "Collectively, we have a role to play".
Shallow said that the Walk was one of awareness.
"We want to send a signal that we have a zero tolerance for crime," Shallow warned.
Shallow said instead there are alternatives, hence the message should be: "Join us in sports, let us play sports and come and explore the different opportunities that are available".
And, president of the SVG Olympic Committee Trevor Bailey, who is also the president of the SVG Cycling Union, wants other national sports associations to fashion programmes to combat crime.