Posted on
Marvin Fraser is on the ball with Vincy Heat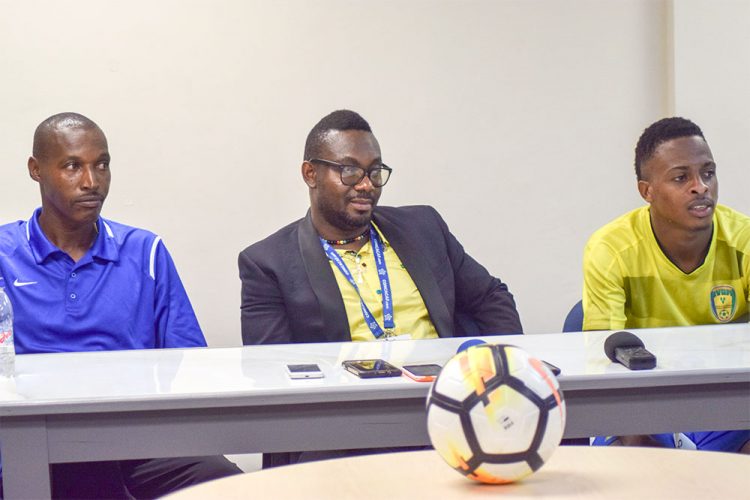 St Vincent and the Grenadines' senior men's Football team Vincy Heat, is getting the full support of newly-elected president of the St Vincent and the Grenadines Football Federation (SVGFF) Marvin Fraser.
Taking a hands on approach, Fraser was present at the post–match interview at the recent CONCACAF Nations League Qualifier versus Nicaragua, and even offered some technical explanations for the team's 2-0 defeat.
Sandwiched by head coach Cornelius Huggins and team captain Nazir Mc Burnette, Fraser thumbed finishing as one of Vincy Heat's major problems.
"I think over the years, we have been seeing that (finishing) happening to St Vincent and the Grenadines, we have had our opportunities and we (have) failed to put them away to get back in the game," Fraser assessed.
Fraser added that Vincy Heat lacks the ability to regroup after falling behind.
"We just don't have it to come from behind and beat teams… We tend to believe it's over once somebody goes in front of us, and we have to get out of that," Fraser stated.
The SVGFF president, though, promised, "We will work on that aspect… We will continue to talk to the guys and look at the set up (that) we have, look at players".
Fraser in his technical exposition, disclosed that he is looking favourably at engaging the Barbados senior national team, to face Vincy Heat and the St Vincent and the Grenadines Under-20 team in the two friendly international, before the end of September.
These matches will be played here in St Vincent and the Grenadines, according to Fraser.
Whilst Vincy Heat will continue in the CONCACAF Nations League Qualifiers, when they will be away to French Guiana on October 11, SVG's Under-20 will be part of the CONCACAF Qualifiers in Florida, USA in November.
The Under-20s have been drawn in Group A, which also hosts USA, Trinidad and Tobago, the US Virgin Island, Puerto Rico and Suriname.
"That is the plan right now… get them playing some more games; get them playing some more international friendlies, regional friendlies … No longer can we satisfy with teams in the region, but get teams from further to come to St Vincent (and the Grenadines) and play," Fraser outlined.
He also assured his backing for the teams going forward to their various assignments.
Fraser assumed the post of president of the SVGFF on August 16, this year, when he was elected at Special Meeting, to replace Venold Coombs.
Coombs is serving a two-year ban and a hefty US $ 40 000 fine, handed by the Adjudicatory Chamber of the independent Ethics Committee, having been found guilty of violating FIFA Code of Ethics on Bribery and Corruption, Conflict of Interest and Loyalty.