Posted on
Two males benefit from Breakaway Masters' Educational Assistance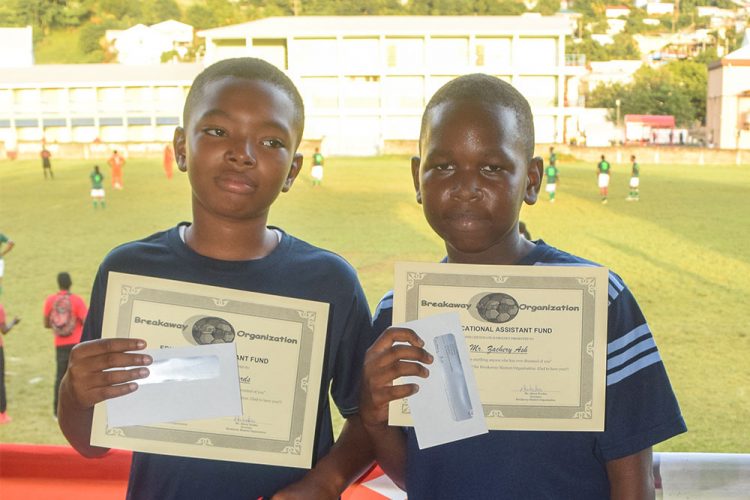 Deondre Richards and Zachery Ash, are the two recipients of the Breakaway Masters Organization Educational Assistance programme.
The two received $1,000 each, with the Breakaway Masters Organization providing $1,000, which was topped up by the St Vincent Brewery, at a ceremony which took place last Friday afternoon at the Grammar School Playing Field's pavilion.
The two, who were selected from a field of six applicants, also were presented with a quantity of schools supplies and book bags, courtesy Digicel.
Richards entered Form one of the St Martin's Secondary School and Ash, the St Vincent Grammar School, when the new school year commenced last Monday.
They were told by Camillo Samuel, treasurer of the Breakaway Masters Organization, to "avoid being normal".
Samuel's recommendation was in the context of them striving to always be at the top of their class.
"Strive, burn, do everything you can to avoid being the normal standard… Be greater than anyone else have ever dreamed of you," Samuel said to the two male recipients.
Richards and Ash, join Anaelia Williams, who was the first recipient of the programme, which got going last year.
Williams attends the Girls' High School.
The Breakaway Masters Organization runs the Firms Invitational football competition, which kicked off in 2011.
At the 2018 Interactive Media Limited's hosting of Best of SVG People's Choice awards, the Breakaway Masters Organization was voted the best sports club.