Posted on
SVG karatekas give good account at IKD world cup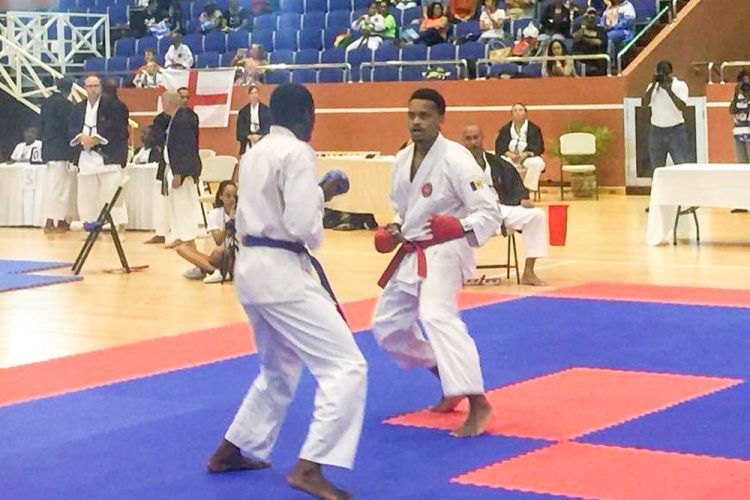 The St Vincent and the Grenadines team at the recent International Karate Daigaku (IDK) World Cup staged in Barbados, did not gain a medal, but gave a good account of themselves.
Represented by a team of ten karatekas at the third edition, held at the Sir Garfield Sobers Gymnasium, Claude Bascombe Jr got to semi-finals of the 20-39 age group kata and finished with a fourth place.
Also gaining a semi-final berth was Mc Quinn Muckett, in the 8-10 male kata.
Meanwhile, Judah Cambridge had advanced to the second round of the 20-39 male adult kumite.
Others who made it to the second round were Terrance Providence and Joel Mason in the 11-13 male kumite.
The rest of the St Vincent and the Grenadines team comprised of Alvin Seales, Quin Jackson and Zabdiel Searles, all in the male 20-39 bracket, as well as Cornelius Peters (11-13 male) and Jefaun Duncan (8-10 female).
St Vincent and the Grenadines, though was unable to contest the team events because of injuries sustained by some of the members in the individual competitions.
In addition to combat, four Vincentians had their judging capabilities assessed in Barbados.
Allan Burke gained a (6A), Claude Bascombe Jr. (5B), Alvin Searles (3C) and Quinn Jackson (2D) qualification.
Team captain Claude Bascombe Jr related that it was a good outing for the karatekas, in light of the inexperience.
Bascombe Jr stated that many kudos are due to the team's head coach Jerome Burke, whose input was "tremendous". He also expressed gratitude to all those persons and businesses who assisted in getting the team to Barbados.
Among those who donated were the National Lotteries Authority, Digicel, KCCU, Vinnic Batteries, Blue Lagoon, Courts and Flow.
Bascombe Jr. also thanked the general public who whole heartedly supported their fund-raising activities.