Posted on
Blue Marlins rise to the occasion at FLOW invitational Swim Meet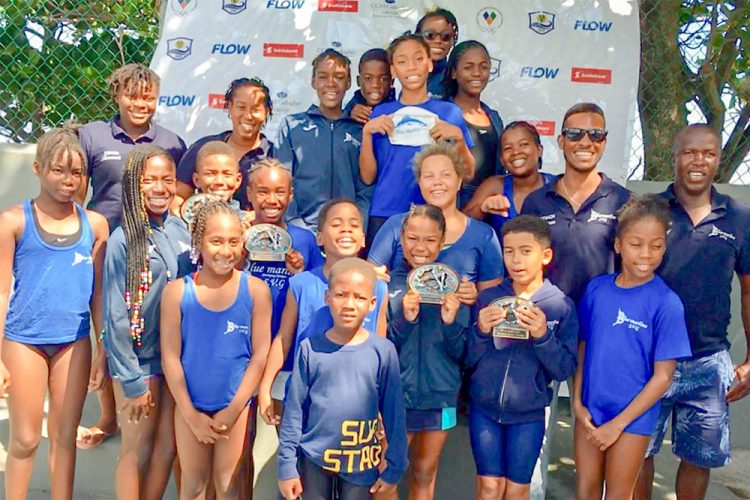 The 27 best swimmers of the Blue Marlins swim club demonstrated their prowess and ever improving swim talent, at the recently hosted annual Flow Invitational swim meet at the Shrewsbury Aquatic Centre. The swim meet featured clubs from Tobago (YMCA) and Barbados (Silver Fins & High Tide Stingrays), in addition to local clubs from Bequia (Rising Stars) and Owia (Salt Pond Snappers), including the Blacksands Swim Squad.
The club featured all their stalwarts in a record-breaking and multiple personal best-time achievement weekend of events, with a 93 medal haul.
The youngest headliner, Hazen Dabriel, swimming in the 8 and under category emerged the age group champion, as well as the sprint challenge champion. He amassed a total of 12 medals (10 gold, 2 silver).
Not to be outdone was the boy's 9 to 10 age group overall champ Seth Byron, achieving 11 medals (5 gold, 2 silver, 4 bronze). Patrons were also reminded of Kennice Greene's aquatic ability, when she won the girls 9 to 10 age group, amassing 14 medals (7 gold, 6 silver, 1 bronze), also breaking the 200 Individual Medley and 200 Backstroke national records. Jaynika Williams showed notable improvement by copping 13 medals in her age group category (3 gold, 10 silver). Other noteworthy medal achievements were realised by Zariel Nelson with 11 medals (2 gold, 4 silver, 5 bronze), Breanna Bruce coped 10 medals (2 silver, 8 bronze), Tyler Robinson 6 medals (3 silver, 3 bronze), Adiah Phillips and Rhonyah Jack each coped 5 medals (1 gold, 4 silver and 5 bronze), respectively. Zaryah Samuel, Matthew Ballah and Rhema Robinson each achieved 2 medals apiece (1 gold, 1 silver, and 2 bronze, and 1 gold, 1 silver), respectively.
Many new national records were established while other swimmers managed to qualify for the upcoming regional swimming meets, namely the OECS Championship in November in Antigua, and the CARIFTA Championships slated for Easter 2019. The swim event continues to grow annually, attracting regional participation and some patrons agree that it is surely becoming a premiere national swim event in the sporting calendar.