Posted on
Trinidad and Tobago win CWI U-19 three-day tournament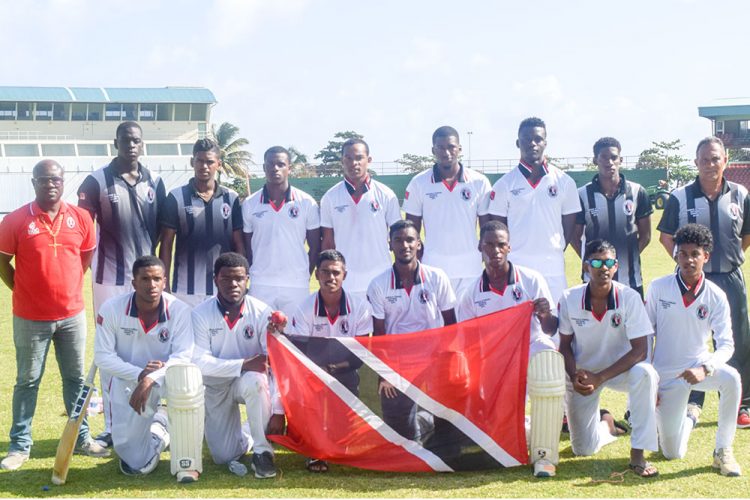 Trinidad and Tobago were crowned the 2018 Cricket West Indies (CWI) Under-19 three-day cricket tournament champions when they defeated Jamaica by 10 wickets yesterday at the Arnos Vale One Playing Field. Set 58 to win, the Trinidad and Tobago opening pair of Cephas Cooper – 40 not out and Navin Bidaisee – 14 not out, reached the target in 13 overs.
Trinidad and Tobago bowlers had set up the victory from day one on Saturday, when Jamaica made 190/9 declared. Rivaldo Ramlogan took 3/35 and Justin Gangoo – 2/23.
Ricardo Mc Intosh – 56 and Andre Mc Carthy – 44, were the principal scorers in Jamaica's total. Trinidad and Tobago's response was hinged on a masterful 173 not out by Cephas Cooper. His knock contained 19 fours. Navin Bidaisee struck 12 fours and 2 sixes in his 93, while Leonard Julien hit 56 and Crystian Thurton- 36, as Trinidad and Tobago posted 400/2 declared.
Batting a second time, and with a deficit of 210, Jamaica, led by Kirk Mc Kenzie's 129, fared better, as they tallied 267. Mc Kenzie's ton saw him striking 15 fours and 3 sixes. The next best contribution was Carlos Brown's 40.
Bowling for Trinidad and Tobago, Avinash Mahabirsingh grabbed 5/90 and Navin Bidaisee- 2/62. In other third round results, Barbados beat Guyana by three wickets at the Park Hill Playing Field and at the Sion Hill Playing Field, the Leewards by six wickets within two days.
At Park Hill, Guyana batted first and made 203; Kevelon Anderson – 71, Joshua Persaud 39 and Kevin Sinclair 33. For Barbados, Camarie Boyce had 3/27 and Nyeem Young 2/ 47.
In replay, Barbados made 214, led by Nico Reifer's 69, Matthew Forde 35 not out and Kadeem Alleyne 35. Kelvin Umroa grabbed 5/ 83, to be Guyana's most successful bowler.
Guyana's second innings stopped at 142. Kevelon Anderson 44, Sachin Singh 37 and Javid Karim 31, were the main contributors.
Nyeem Young picked off 4/ 6 and Camarie Boyce 3/43, bowling for Barbados, who had to make 132 to win. Barbados' batsmen obliged, but not without a stutter, reaching 134/7.
Nico Reifer topscored with 39, while Kelvin Umroa had 5/51 and Ashmed Nedd- 2/46. And, the Leewards in condemning the Windwards to the bottom of the six team table, dismissed the Windwards for 115 on Saturday. Johnel Eugene – 34.
Uri Smith – 3 for 11; Zawandi White – 2/ 25 and Elroy Francis – 2/31, bowling for the Leewards, whose reply was 156.
The Leewards' batting was led by Demari Benta – 54 and Elroy Francis – 52. Lincoln Durand was the pick of the Windwards' bowling, bagging 5/35 and Simeon Gerson took 3/ 37.
Batting a second time, the Windwards fared worse bowled out for 98, with Kimani Melius making 30.
Elroy Francis picked up a fiver for 23, Uri Smith – 2/5 and Javin Spencer – 2/22. Mikyle Louis topscored with 31, as the Leewards reached 60/4.
Canada joins the six regional teams for the 50 overs format which starts on Thursday. The opening round of matches sees Canada versus Guyana at Arnos Vale; Trinidad and Tobago against the Leewards at Sion Hill and at the Cumberland Playing Field, the Leewards and the Windwards do battle.