Posted on
SVG docks tied second in Windward Islands Schools' Games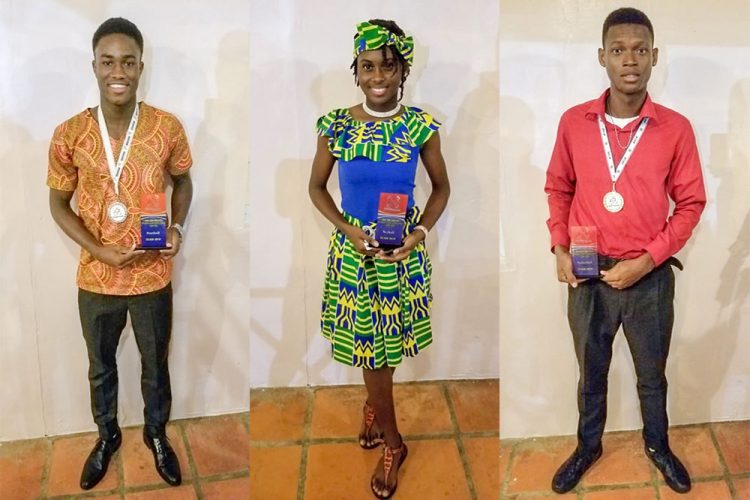 The St Vincent and the Grenadines team to the 2018 CBN/ Winlott Inc. Windward Islands Schools' Games staged in St Lucia, finished second, tying with the host country.
When the annual games ended last Sunday in the southern town of Vieux Fort, the Vincentians, like the St Lucians, ended with 27 points, but behind Grenada's 33.
Dominica, with 25 points, placed fourth.
St Vincent and the Grenadines' compilation of points was as a result of a first place in male volleyball, three second places in track and field, male basketball and football, along with a third place in female volleyball.
But, St Vincent and the Grenadines got a whipping in all three matches of netball and female basketball, thus ending fourth in both disciplines.
The Vincentians' hold on the male volleyball came from two 3-0 wins over St Lucia and Dominica, and a 3-1 win over Grenada.
The second places in track and field to Grenada proved to be a vast improvement on previous years showing.
The points were distributed as follows: Grenada – 281, SVG – 251, St Lucia – 209 and Dominica – 172.
SVG's second place in football, came via a 2-0 win against St Lucia, a 0-0 draw with Dominica and a 0-2 loss to Grenada.
Meanwhile, the male basketballers beat St Lucia 72-63, and had a hard-fought 85-78 win over Dominica in overtime.
The male basketballers had started off with a 76-56 loss to Grenada, before rebounding against their other two opponents.
En route placing third in female volleyball, the Vincentian lasses were beaten 3-0 by St Lucia and Dominica, before inflicting a 3-1 sets beating on Grenada.
On the other hand, St Vincent and the Grenadines failed to retain the football title after having to settle to one-all draws with Grenada and Dominica, but edged out St Lucia 3-2.
The male volleyballers did not live up to expectations, as they bossed St Lucia 3-0, but then lost out to Grenada 2-3 and Dominica, 0-3.
As expected, St Vincent and the Grenadines ended at the back of the pack in female basketball, beaten by St Lucia 54-14, Grenada, 35-17 and Dominica, 45-11.
But it was netball which produced the most disappointed results for the Vincentian group.
St Vincent and Grenadines, a one-time guru of this discipline, was swished by Grenada 27-12, beaten by St Lucia, 30-21 and by Dominica, 20-11.
Taking the MVP awards for the Vincentian contingent were Nerissa Delpesche – netball; Nicholas Lewis – male basketball, Merisha Lavia – female basketball and Diel Spring – football.
The list was completed by Zita Vincent – track and field, Ronaldo Franklyn – male volleyball and – Nhage Morgan – female volleyball.
St Vincent and the Grenadines, like St Lucia, Grenada and Dominica, was represented by 62 student athletes and eight officials.
Dominica is set to host the 2019 edition.