Posted on
Sabrina Mitchell gets 'surprised' acknowledgement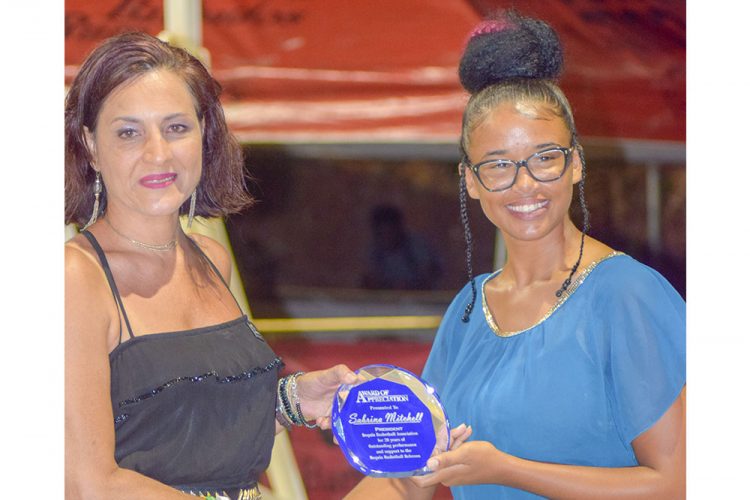 Longstanding president of the Bequia Basketball Association Sabrina Mitchell was left emotional last Saturday evening at the Clive Tannis hard court in Bequia, after she received a plaque of recognition.
The recognition of appreciation was for her service to basketball on the Grenadine island, and St Vincent and the Grenadines as a whole.
Making the presentation to Mitchell was Reba Ollivierre, the niece of Shem Ollivierre, a certified FIBA referee.
 Ollivierre's niece read a letter addressed to Mitchell, detailing how much she Mitchell had impacted him in gaining his status of a FIBA referee.  
Similar sentiments were mentioned in Ollivierre's letter on behalf of another FIBA referee, Michael Peniston, who is also a resident of Bequia.
Mitchell has been at the helm of the association since 1999, and is overseeing the tournament's 20th edition this year.
Noting that she gives, but hardly receives, Mitchell was moved to tears, as she accepted the plaque on behalf of Shem Ollivierre and Peniston.
Apart from heading the Bequia Basketball Association, Mitchell is a SVG's sports ambassador, the secretary general of the Caribbean Basketball Confederation and a FIBA Americas board member.
 
For the past 19 years, the Bequia Basketball Association has risen to become one of the most efficiently run sporting organisations in St Vincent and the Grenadines.