Posted on
West St George Primary schools' cricket festival concludes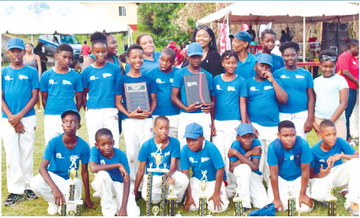 THE WEST St George Primary Schools' Cricket Festival concluded last Sunday at Belair Playing Field.
Taking the championship round was Winston Findlay Tortola General Store Belair Primary School, with KPMG Belmont, second.The MVP of the championship was Jaden Henry of Belair Primary School.
Meanwhile, Belmont Primary had copped the knock-out competition played on the opening day, with Dorsetshire Hill, the runner-up and Belair Primary, third.
Berivin Cain of Belmont Primary was the knock-out competition's MVP.
Winning the round robin phase was KPMG Belmont, second was Belair Primary, with LOG Enterprise Dorsetshire Hill, third, ahead of Coreas Gomea Methodist and Allan's Bakery Sion Hill Government in that order.
Everton Shallow of Belmont Primary secured the MVP award, while Xavier Sandy of the Belair Primary was adjudged the Best Wicketkeeper.Also rewarded were the players who
scored the most runs and took the most wickets for each of the five competing schools.
Scoring the most runs for Sion Hill Government was Leslie Codougan (41) and Adam Pierre, the most wickets (6).
Belair's top run-scorer was Trevon Questelles, who scored 67 and taking the most wickets for that institution was Damani Charles, with eight.
For Dorsetshire Hill Government, scoring the most runs and taking the most wickets was Brandon Lawrence, with 43 runs and eight wickets.
Belmont's top performer with the bat and ball was Everton Shallow, who tallied 95 runs and captured six wickets.
And, for Gomea Methodist School, scoring the most runs was Mbeki King (75 runs) and copping the most wickets award was Jada Hazell, with eight.
The West St George schools' development festival is the brainchild of parliamentary representative for West St George Cecil "Ces" Mc Kie.
The festival made a return this year after a hiatus.
THE WINSTON FINDLAY Tortola General Store Belair Primary School's cricket teamchampions of the West St George Primary Schools' festival