Posted on
Victors to be decided in junior table tennis competition tomorrow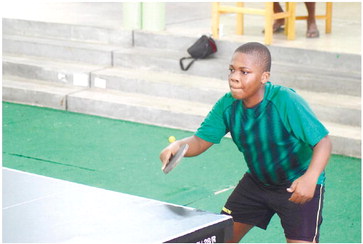 THE BOYS' Under-15 and Under-18 and the junior doubles titles of the national cadet and junior table tennis championships, would be decided tomorrow at the West St George Secondary School.
Making it through to the quarter-finals in the Under-15s are Akeil DeRoche, Michel Creese, Caleb Howard, Dureese Nelson, Joshua Joseph, Kristian Christopher, Zedon Joseph and Mirac Creese.
De Roche, Creese, Caleb Howard, Joseph, Dureese Nelson, Juwan Howard, Augustine Pollard and Mirac Creese, are through to the under–18 boys quarter- finals.
They all advanced after last Saturday's preliminary round of qualifiers.
Akeil De Roche and Michel Creese defeated Kenjay Phillips and Ezer Lucas, 11-7, 11-4, while Caleb Howard and Juwan Howard saw off the pair of Joshua Joseph and Dureese Nelson, 5-11, 11-8, 11-8, to set up the junior doubles showdown.
Already decided, though, are the girls Under-18 and Under-15, which was won by Leah Cumberbatch and Delecia Michael, respectively.
Cumberbatch beat Delecia Michael 11-5 ,11-8, also Derecia Michael 15-13, 11-8, Vedel Charles 11-5 , 12-10 and Julia Nichols 11-6 , 8-11, 11-7, on her way to the Under-15 title.
Meanwhile, Delecia Michael defeated a field of three, for her crowning moment.
She beat Vedel Charles
CALEB HOWARD IS into the quarter finals of the Under-15, Under-18 and junior doubles
11-8, 11-5, Derecia Michael 11-9, 11-9, and Leah Cumberbatch 11-4 , 11-8.
Tomorrow's elimination matches are set to serve off at 9 a.m. The seniors will begin their battle on April 26, also at the West St George Secondary School from 5:30 p.m. daily.
Overseas-based players David Llewellyn and Kavir Gaymes are expected to compete in the championships.
MICHEL CREESE will be seeking to trump in all his outings