Posted on
DRAW RED LINES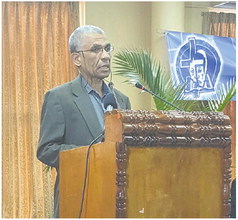 Set boundaries for acceptable conduct in society urges UWI Professor
THERE ARE TWO POINTS in their lives where problematic young people can be turned around, between the ages of 12 to 17 and 17 to 25, says psychologist and crime researcher Professor Anthony Harriot.
"…12 to 16 is the first danger point, especially in the male life course. This is the time they should be in school and what you need are institutions, support systems, basically to keep them in school," explained Harriot, director of the Institute of Criminal Justice and Security, University of the West Indies (UWI), Mona Campus, Jamaica.
Professor Harriot told a gathering at the Methodist Church Hall in Kingstown on Wednesday, that if you keep youths in this age group in school, they will age out of delinquency by the time they are 17.
"They do it on their own, with minimal support," he stressed while adding that a few remain problematic, but those few move on to the next instance, between 17 to 24/25, but can still be helped.
"…You have to have a second set of institutions to serve that problematic age set, between 17 to 25. That problematic group, two things happen to them… they get a job, or they get married and they are fine; they age out and are not a problem for society at all," the crime researcher told the gathering.
● Continued on Page 4
PROFESSOR ANTHONY HARRIOT
PARTICIPANTS AT THE CONVERSATION on a two-day national conversation on crime and violence organized by the SVG Christian Council