Posted on
Fighting COVID-19 – with gratitude, fortitude and remembering Guyana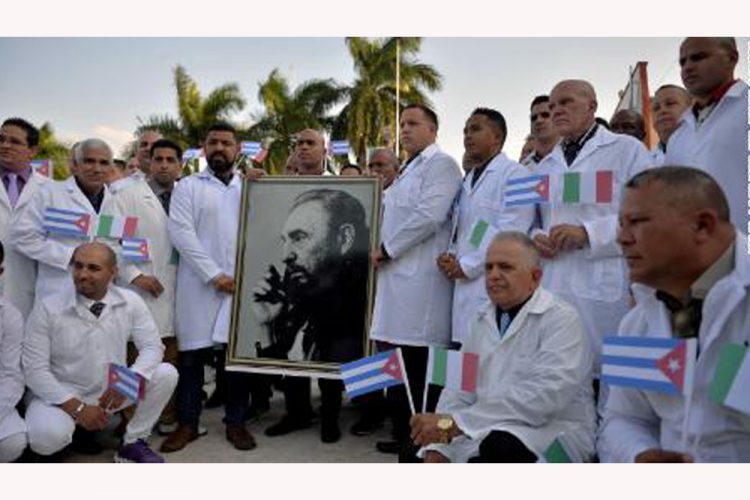 AS WE ALL STRUGGLE in the Caribbean to cope with the many- sided effects of COVID-19, let us not for a moment forget or lose sight of the struggle for democracy in Guyana, even as its people, like the rest of us, are grappling with the COVID threat.
Three weeks after the March 2 general elections, there has still not been an official winner and some Guyanese election officials, in a sad throwback to the three decades from the mid-sixties to early nineties, continue to flout election laws, the Constitution and international observers. The COVID crisis may well provide a blanket under which the shenanigans can be swept, but we must not allow it.
Whilst fighting COVID, we must also take a firm stand against any electoral fraud.
THANKS TO CUBA – AGAIN
Let me add my thanks and appreciation to those expressed in the SEARCHLIGHT editorial (March 24) and, in the same issue by columnist Joel Richards, to the selfless contribution of Cuba to the global fight against the COVID-19. (Please take out a subscription to the midweek SEARCHLIGHT to be so informed). No other country on earth can lay claim to such practical demonstrations of humanitarianism. Yet Cuba is still a developing country facing the hostility and brutal sanctions of the mightiest state on earth.
For 60 years we have been warned, falsely, about being on the lookout for "Cuban guerrillas". Well, it has turned out that Cuba is indeed dispatching armies all over the world, but these are what is termed, "Armies of white robes", heroic Cuban medical personnel who are braving their lives to travel abroad to fight cholera in Haiti, the dreaded ebola in West Africa and now the coronavirus in countries big and small.
It is the Cuban-developed anti-viral drug, Interferon Alfa-2B which enabled the Chinese to wage a winning battle against the ravages of COVID-19. Cuba has now sent medical brigades to help six countries in our region, including SVG. But it is not only allies and neighbours who have benefitted from Cuba in this crisis.
Take Italy for instance, one of the richest countries in the world, a member of the exclusive G-7 club of nations, and a country with a right-wing government, not partial to Cuba. In its greatest hour of need, faced with the ravages of COVID, it sought assistance from Cuba and that country has promptly dispatched a 52-strong team, Interferon and all, to help Italy combat the human tragedy.
It is not only Italy that has benefitted from Cuban generosity in the crisis.
A British cruise ship was stranded with 600 passengers on board in the Caribbean with no country willing to take the risk of accommodating them because of COVID infections aboard. It was Cuba which came to the rescue, which like Jesus, took in the sick and ailing, treated them and arranged for them to fly home safely.
Both Italy and Britain, partners on the right-wing with Donald Trump's USA, have profusely thanked Cuba. Much as this expression of gratitude should be welcomed, will those countries now review their unfounded hostility to Cuba, and go further in trying to restore friendship and humanitarianism in spite of political differences?
As we here in SVG welcome the 16-strong Cuban medical brigade this week, let me express my abhorrence and profound shame over the reported actions of some local medical personnel, including some who have been trained at the expense of the Cuban and Vincentian working people, who are refusing to make selfless contributions in the fight against COVID-19. There are also reports that some of our students in Cuba, beneficiaries of Cuban assistance, have shown "reluctance", to put it mildly, in joining a house-to-house campaign in Cuba to fight off the coronavirus infection.
What manner of people are these? Is that how we repay generosity? Is such behaviour in keeping with the role of medical professionals? My response is not to condemn, but to urge our young professionals to rethink and review their lack of action. It may be COVID -19 today, but what of tomorrow?
Selfishness and prejudice will get us nowhere. Italy and the UK would never have dreamed that the fabled "white knight" riding to their rescue would be Cuban. Those who perpetuate the anti-Cuban sentiments, going back to the disgraceful slander about "KFC for Cuban workers building our international airport", have contributed to this collective shame on our nation.
As we continue to fight the COVID -19 threats, with Cuban assistance, and face up to the grim economic prospects to come, we must also battle the negative trends in our midst.
(Note: In light of the national address by P.M.
Gonsalves, to come after this column was written, the promised comments on the economic and social repercussions of COVID-19, have been left for next week).
l Renwick Rose is a community activist and social comm entator.