Posted on
ECGC Bids Farewell to Elvis Deriggs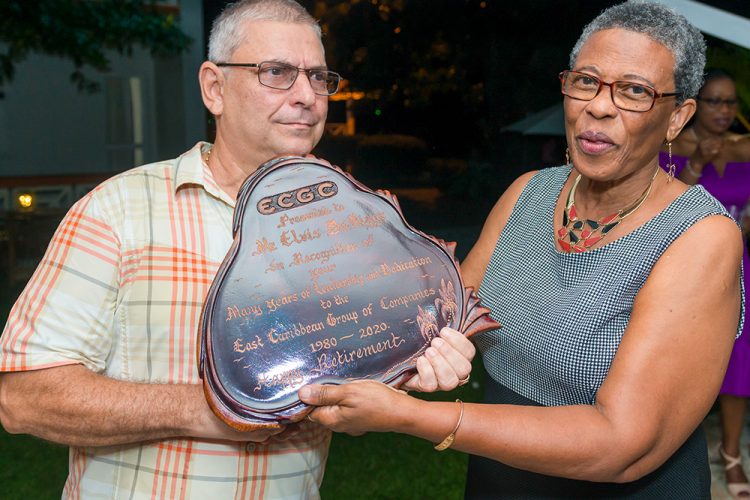 Elvis DeRiggs, Chief Executive Officer of the East Caribbean Group of Companies was given a grand send off last Friday evening when members of the Board of Directors, Management and senior staff held a cocktail reception in his honour.
DeRiggs has had an illustrious career which spans 40 years. He made his entrance to ECGC on July 17, 1980 as a Milling Trainee, immediately after completing his studies at the St Vincent Grammar School. Four years later in 1984, he was confirmed as a qualified Flour Miller and on July 1, 1990, he was promoted to the position of Head Miller, making him the first Vincentian to be appointed to this post. Fourteen years later, in 1998, DeRiggs was promoted to Production Manager and 11 years after that, in April 2009, he became second-in-command as Chief Operating Officer.
During this time, he headed CARICOM Rice Mills in Guyana for a period of five years which culminated in 2018.
DeRiggs was appointed Chief Executive Officer on January 1, 2019, a position which he holds until his retirement at the end of this month.
During the official part of the evening's proceedings, several long-standing members of staff spoke about their experiences working with DeRiggs over the years. Director Sylvia Sutherland thanked DeRiggs on behalf of the Board of Directors before presenting him with a plaque in recognition of his long-standing service to the company.
DeRiggs will be succeeded by Jomo Robert Cato, who assumes the position of CEO on January 1, 2021.