Posted on
Vincentian joins the ranks of the Royal Navy after completing basic training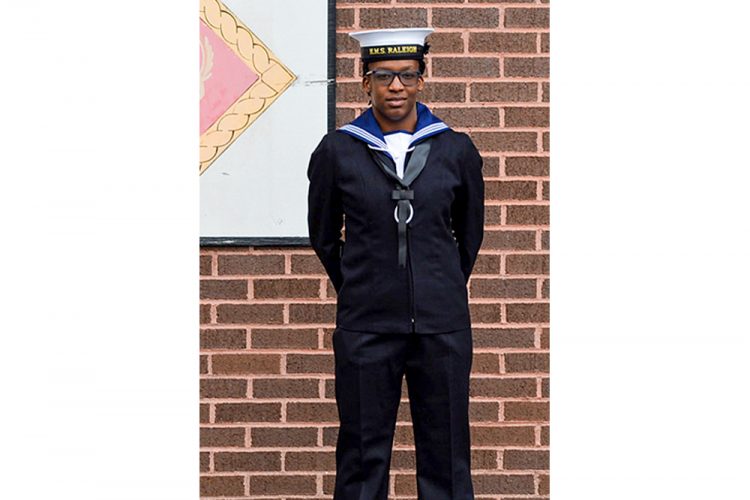 A 23-year-old from St Vincent and the Grenadines has joined the ranks of the Royal Navy after completing her basic training.
Trainee Writer Katty Velox joined the Service in September 2020, arriving at the gates of HMS Raleigh, in Cornwall, UK, for her induction training.
She has now completed an intensive 10-week course designed to teach her the skills she will rely upon throughout her career.
Katty said: "I joined the Royal Navy to have a career and to seek a better life for my daughter and I; a life that I've never had. Training in general wasn't an easy task. The hardest thing I've ever done was running with a stretcher with my class. It's a mental and physical exercise. I would say that without being mentally prepared, training could take a toll on the individual. For anyone thinking of joining just be prepared and ready for whatever is being thrown at you and then you will conquer it all."
With the first phase of her training complete Katty will transfer to the Defence College of Logistics and Personnel Administration in Winchester. As a Writer, Katty will be one of the Royal Navy's HR Administrators and will be in charge of Human Resources (HR), handling legal matters, financial admin, and looking after the welfare of her crewmates. She'll also advise the Captain about promotions and organise her crewmates' pay.
The Royal Navy's Initial Naval Training course is underpinned by nine Core Maritime Skills that are the foundations of naval life and underpin operational effectiveness. Recruits are taught the basics of Naval discipline and customs. They learn about navigation and are given the chance to take the helm of their own medium sized inflatable boat during a waterborne orienteering exercise. Royal Navy personnel can also be called upon to play a vital role in land-based operations, so recruits undergo training in basic combat skills which includes survival in the field.
Fitness is a key component of the training and is delivered using a disciplined method of military fitness which focuses on developing co-ordination and individual physical strength and endurance. As the course progresses the recruits take part in three extended exercises to test their skills and understanding of the principles they have been taught.
Details of career opportunities within the Royal Navy are available online at www.royalnavy.mod.uk/careers or by calling the Recruitment Line on 03456 00 53 02.